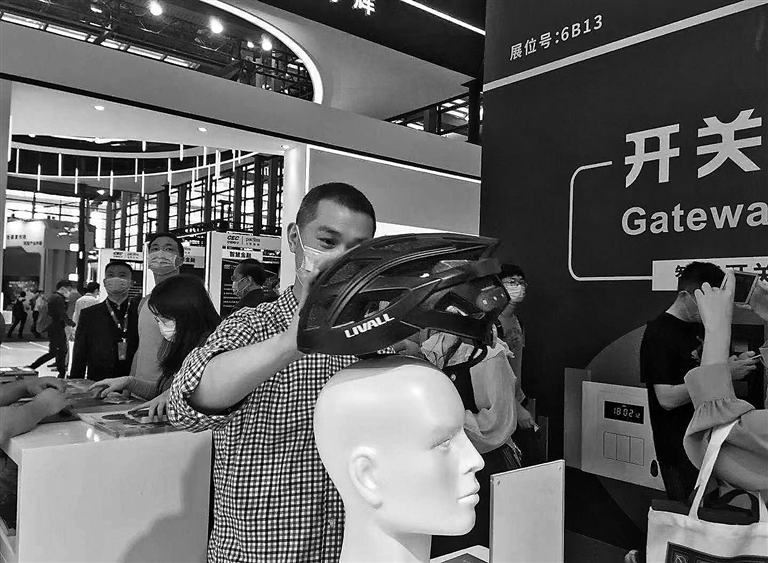 Wang Jingli
Wangjingli0715@163.com
A SHENZHEN-BASED company named LIVALL brought their upgraded smart helmets to the 22nd China Hi-Tech Fair (CHTF) being held at the Shenzhen Convention and Exhibition Center in Futian District.
Two new functions, namely front LED lights and brake warning lights and an anti-loss alarm, have been added to the new version of their smart helmets, in addition to functions already applied on their previous products such as fall detection, SOS help, voice navigation and walkie-talkie.
When the built-in gravity acceleration sensor detects a deceleration, the front and tail lights will be highlighted for eight seconds to warn vehicles and pedestrians to the front and rear.
The anti-loss alarm will alert both phones and helmets once the distance between the connected helmet and mobile phone exceeds 15 meters to avoid a loss of a mobile phone.
The company also developed their own app to record cyclists' riding history. Most importantly, the app's emergency system can automatically send riders' GPS location to emergency contacts previously set by the riders once fall detection is activated to help save lives in the event of an accident.
It is reported that the SOS system successfully helped a user in the U.K. prevent serious injuries.
The walkie-talkie function allows fellow cyclists to communicate easily when riding in a group. All the functions can be operated via a remote control placed beside vehicle controllers.
Growing demand of online food delivery services in recent years has also increased concerns over deliverymen's safety on the road.
On-demand food delivery platforms including Meituan and Ele.me have worked with LIVALL to pilot using a tailored smart helmet for their delivery workers last year, according to staff with the marketing department of LIVALL.
The product has won awards including iF Design Award, ISPO Award and CES Innovation Awards.