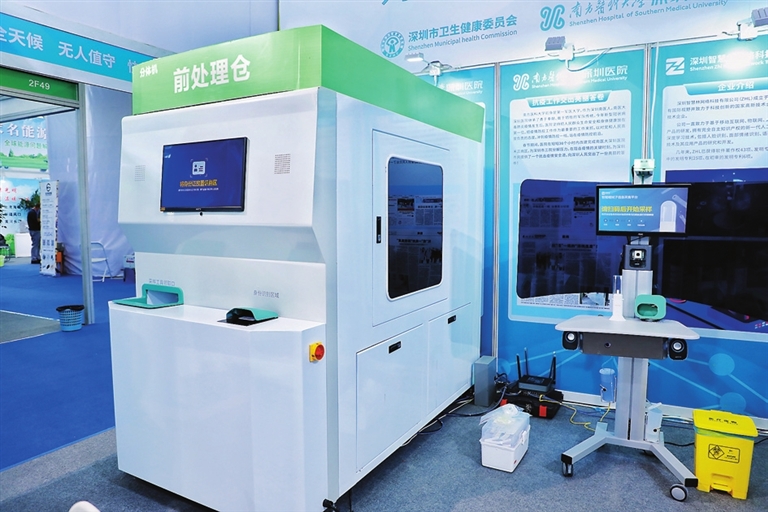 Zhang Yu
JeniZhang13@163.com
AN unattended nucleic acid self-service sampling machine that can complete the entire process of testing without the help of others has attracted much attention at the 22nd China Hi-Tech Fair (CHTF), which wrapped up in Shenzhen yesterday.
The self-service sampling device was jointly developed by Shenzhen Hospital of Southern Medical University (SMUSZH) and Shenzhen Zhihuilin Network.
According to the machine's inventors, the sampling machine can work around the clock without assistance at customs, hospitals, and where an outbreak has occurred, greatly conserving manpower and material resources.
It is reported that the machine is the first fully self-service nucleic acid testing and sampling machine in China. At present, the product has started clinical trials and is applying for relevant qualification. It is expected to be put into operation in 2021.
Verified through ID cards and facial recognition first, the sampled person is instructed to use sampling tools and mouth spreaders assisted by AI-guided videos, to accurately find the effective sampling position of the throat swab, and then collect qualified samples. Afterwards, the robot will automatically collect, package, and save the samples. The whole process takes less than five minutes.
Different from manual sampling, the self-service sampling machine for nucleic acid testing solves various problems such as time costs and laborious centralized sampling, cross infection and false negative test results caused by nonstandard operations, according to Xiao Liehui, Party chief of SMUSZH and one of the inventors of the machine.
Liu Yajie, another inventor and vice president of SMUSZH, said the machine can quickly complete large-scale nucleic acid testing, which is of great significance for early diagnosis and early treatment of COVID-19.
"Though machine sampling is slower than manual sampling, which usually take only 3 minutes, the machine can be put into use in batches and operate 24 hours a day, which can greatly improve efficiency and save manpower," said Ding Jian, general manager of Shenzhen Zhihuilin Network.