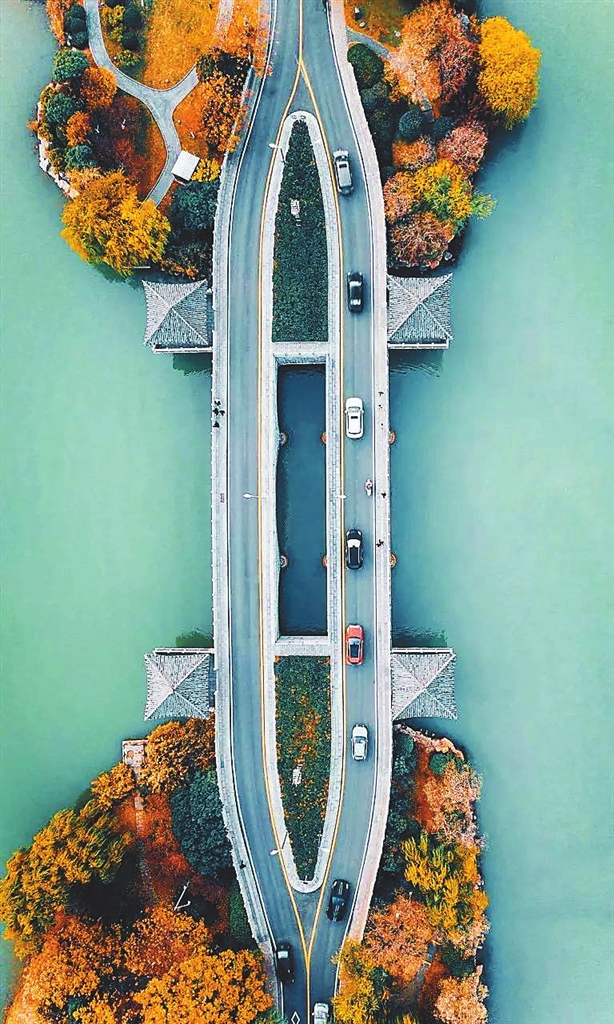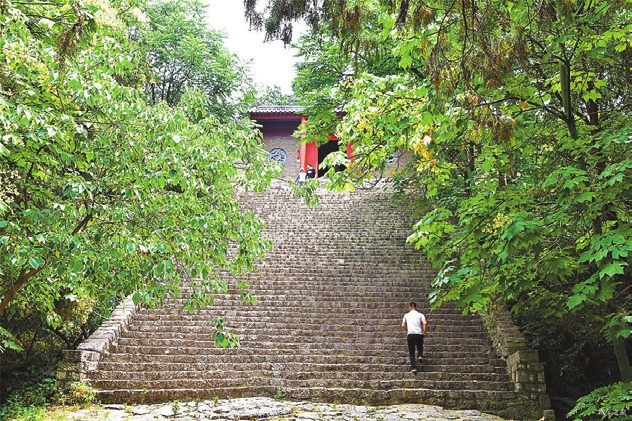 NOVEMBER is the best time of the year to appreciate an autumn view. If you are looking for a golden palace full of ginkgo foliage, Tengchong Ginkgo Village in Yunnan and the Guanyin Zen Temple in Xi'an are not the only options.
There is a little-known place with a large scale of ginkgo trees where you can see the striking golden view. The place is home to a ginkgo forest park covering an area of more than 300,000 mu (200 square kilometers), which includes 12 1,000-year-old ginkgo trees, 69 over-500-year-old ginkgo trees and 4,160 ginkgo trees over 100 years old.
This golden ginkgo tunnel is hidden in Pizhou City under the administration of Xuzhou City in Jiangsu Province. There is a saying: "If you want to appreciate ginkgo in Jiangsu Province, you have to go to Xuzhou City; if you want to appreciate ginkgo in Xuzhou City, you can't miss Pizhou."
Every year when late autumn approaches, a 3,000-meter-long village road in Pizhou turns into a "golden tunnel." Walking into this tunnel, you will see a golden sky weaved with ginkgo tree branches when you raise your head, and a golden carpet piled up by layers and layers of fallen leaves when you look down. Shutterbugs will thrill with excitement upon seeing this scene.
Apart from the ginkgo tunnel, there are also the Ginkgo Exposition Park in Gangshang Town, the Shiba Ginkgo Forest Park in Guanhu Town, the Ancient Ginkgo at Baima Temple of Sihu Town, and Ginkgo Trees in Wangzhuang Village of Sihu Town.
In addition to providing feasts for your eyes with gorgeous foliage views, Xuzhou has a lot more to offer. Though it isn't Nanjing or Suzhou, it is the oldest city in Jiangsu Province. When talking about Xuzhou, most people think it's an industrial city without culture. However, it enjoys 6,000 years of history as a civilization and a city history of over 2,600 years.
Xuzhou is home to the world's largest rock painting named Han Feng Xin Yun, the world's largest land battle museum, Asia's largest freshwater aquarium, China's largest urban biological wetland park, and China's first underwater terracotta warrior exhibition hall.
It is also a city endowed with natural resources.
Dadong Mountain
Located in Jiawang District, 40 kilometers to the northeast of the central area of Xuzhou, Dadong Mountain, also known as Zhuyu Mountain, is a national 4A tourist site and its main peak reaches 361 meters above sea level. On the mountain stands the 1,500-year-old Zhuyu Temple.
Surrounding the main peak of Dadong Mountain, almost 100 hills of different sizes are distributed continuously and are referred to as the 99 lotus hills. Among these hills, 12 of them have an elevation of over 200 meters.
Yunlong Mountain
Located in southern Xuzhou, Yunlong Mountain, with an elevation of 142 meters, is the second-tallest mountain in Xuzhou. The dense forest covers 97.9 percent of the mountain, and attracts tourists who enjoy the view of clouds surrounding the peaks all year round. With its nine dragon-like peaks, running from the southeast to northwest, it's like a giant dragon overlooking the area, hence its name "Yunlong" which literally means "cloud dragon."
Over 900 years ago, Su Shi, a renowned Chinese poet and politician, came to Xuzhou to assume a post and had written over 100 poems about Yunlong Mountain. As a famous Buddhist mountain, it's home to the 1,500-year-old Xinghua Temple and the over-300-year-old Giant Scholar Rock.
Yunlong Lake
Yunlong Lake is reputed as the "Sister Lake of West Lake in Hangzhou" due to its attractive scenery. The lake is surrounded by mountains on three sides and faces the city on its fourth side. On its east side is the famous Yunlong Mountain. Standing on top of the mountain you can view the whole lake.
The lake is bisected by a road that looks like a jade belt, resulting in the East Lake and the West Lake. Take a stroll around the lake, appreciate the colorful leaves in autumn and on the southeast bank of the lake check out the Sugong Tower that was built to commemorate Su Shi.
Lyuliang Mountain
Located in the southeast of Tongshan District of Xuzhou, Lyuliang Mountain is the backyard garden of the city. The scenic area, covering 186.22 square kilometers, is about 40 kilometers from east to west and 10 kilometers from north to south.
The scenic area is home to a total of 173 hills and many lakes and reservoirs including Lyuliang Lake, Xuanshui Lake, Xiahong Reservoir, Shuikou Reservoir, Baita Reservoir and Yangwa Reservoir. Endowed with rich forest resources and vegetation of various species, the forest coverage rate reaches 89.5 percent.
(Chen Xiaochun)