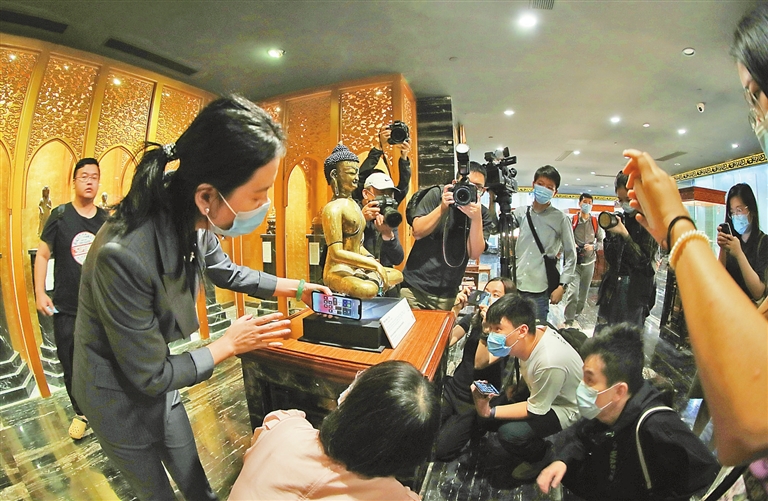 OCT Group and Fantawild Holdings Inc., two Shenzhen-based companies, are among China's Top 30 Cultural Enterprises for 2019, according to a list released at the virtual 16th China (Shenzhen) International Cultural Industries Fair (ICIF) which kicked off Monday.
At an online opening ceremony of the fair in Beijing on Monday, Shenzhen Party chief Wang Weizhong said Shenzhen is trying to take the country's lead in deepening cultural reforms, promoting cultural exchanges, and invigorating cultural innovation vitality. The city aims to make new contributions to building China into a culture-strong country and become a capital of creativity and innovation with global influence.
Prior to the ceremony, Wang attended the news conference announcing the list of China's top 30 cultural firms.
The report, jointly released by the Guangming Daily and Economic Daily, showed the operating revenue of the 30 enterprises reached 434.6 billion yuan (US$62 billion) in total last year. Their total net assets stood at 551.9 billion yuan and net profits amounted to 50.3 billion yuan. The three numbers hit new records, increasing 4.4 percent, 51.89 percent and 10.3 percent, respectively, year on year. The net assets and net profits exceeded the 500-billion-yuan and 50-billion-yuan benchmarks for the first time.
A renowned player in China's entertainment and technology industry, Fantawild has made it onto the list 10 times. Combining culture and technology, Fantawild has established a chain of operations integrating innovation and creativity, research and development, production and marketing, and is now heading in the direction of mass production, diversification and internationalization, according to its official website. It has two main operations: entertainment products and services, as well as theme parks. Entertainment products and services include special effects films, animation, themed performances and consumer products.
The company operates more than 20 theme parks in China and claims to own the biggest special effects film company in China.
Founded in 1985, the OCT Group is China's largest theme park operator. Its assets exceeded 550 billion yuan and revenue surpassed 130 billion yuan last year. It received 150 million visitors across all of its parks throughout the country in 2019, ranking No. 3 among global theme park operators. The tourism industry is the core industry of OCT. The investment in and revenue of culture-related businesses make up 60 percent of the group's total investment and income, respectively, in 2019.
The OCT name comes from the Overseas Chinese Town, a 4.8 square kilometer area in Nanshan District that is home to a number of theme parks such as the Window of the World.
(Han Ximin)