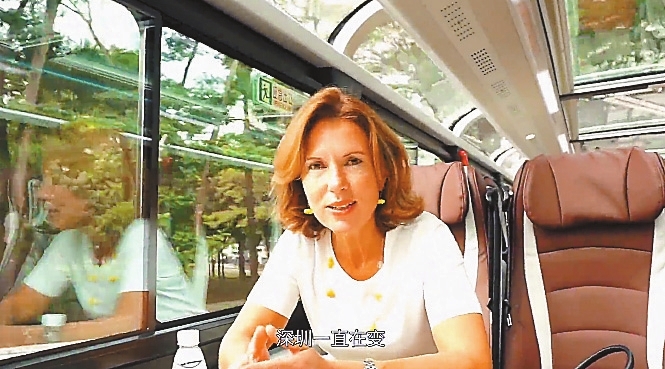 "SHENZHEN keeps changing. Every time when arriving in Shenzhen, I see changes and new things," said Caroline Wilson, newly appointed British ambassador to China, who visited South China last week.
In a video posted on the WeChat account of the British Embassy on Monday, Wilson introduced to the audience her experience of riding a new pure electric double-decker tourist bus developed by Shenzhen-based company BYD.
The bus was just delivered last month, especially designed for a warm-up event in Shenzhen before the U.N. Framework Convention on Climate Change (COP26) that will be held in Glasgow next year.
"This is the best bus I have ever ridden. Shenzhen has just celebrated its 40th anniversary of the Special Economic Zone. Running in the center of the city, the bus has zero emissions. It is very clean. We should reduce carbon emissions around the world to achieve low carbon economy," Wilson said in Chinese.
Wilson also appreciated the convenience of using a QR code and facial recognition technology to pay for the bus fare.
Wilson visited Lianhua Hill Bus Station, acclaimed as the city's most beautiful bus station, and Shenzhen Bus Group, the world's first as well as the biggest pure electric public bus operator, and attended a partnership event to promote the "Race to Zero" campaign Friday at the bus station.
The last time Wilson visited Shenzhen was five years ago.
During a meeting with Chen Rugui, mayor of Shenzhen, Wilson said that the U.K. and Shenzhen have lots of room for cooperation in many fields and she will promote cooperation in green finance, epidemic prevention and control and creative design to achieve mutual development. 
(Wang Jingli)