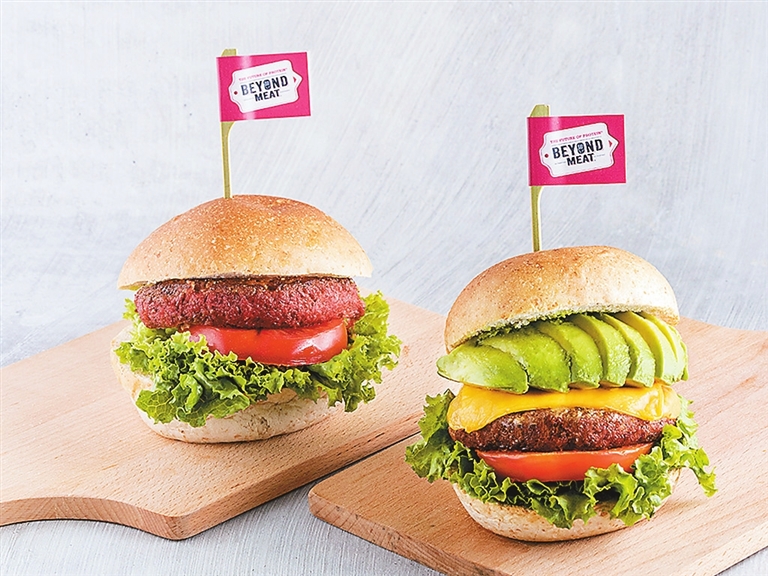 Beyond Meat has unveiled two new versions of the Beyond Burger that address complaints from those who still prefer beef.
One is reportedly the company's "juiciest" while still containing 35 percent less saturated fat than typical 80/20 beef (80 percent lean, 20 percent fat). If you're interested in health above all else, a nutrition-oriented burger has 55 percent less saturated fat than 80/20 beef.
Both of the plant burgers promise B vitamins and minerals "comparable" to beef while offering fewer calories and less overall fat than their bovine equivalents. You can expect the same "savory taste profile," Beyond Meat said.
The updated Beyond Burgers will be available across the United States in early 2021, although Los Angeles residents can reserve a slot to try the burgers this week.
This revamp could be crucial to Beyond Meat's survival. Its arch rival Impossible Foods, for example, is rapidly expanding its footprint. Tastier and more health-friendly burgers could give Beyond an edge and keep it ahead of at least some competitors.
McDonalds is also making its own plant-based burger and other meatless menu items. The company will start to test the McPlant products in some markets next year.
"In the future, McPlant could extend across a line of plant-based products including burgers, chicken-substitutes and breakfast sandwiches," the company's international president Ian Borden said. The company says the McPlant burger "delivers our iconic taste in a sink-your-teeth-in (and wipe-your-mouth) kind of sandwich. It's made with a juicy, plant-based patty and served on a warm, sesame seed bun with all the classic toppings."
McDonalds previously developed a plant-based burger with Beyond Meat that had a trial run in Canada, but it stopped selling that item earlier this year. Last year, Burger King started selling the Impossible Whopper, which includes Impossible Foods' plant-based patty. Many other fast-food chains have plant-based menu items, including Carl's Jr. and Del Taco, which use Beyond Meat products.(SD-Agencies)