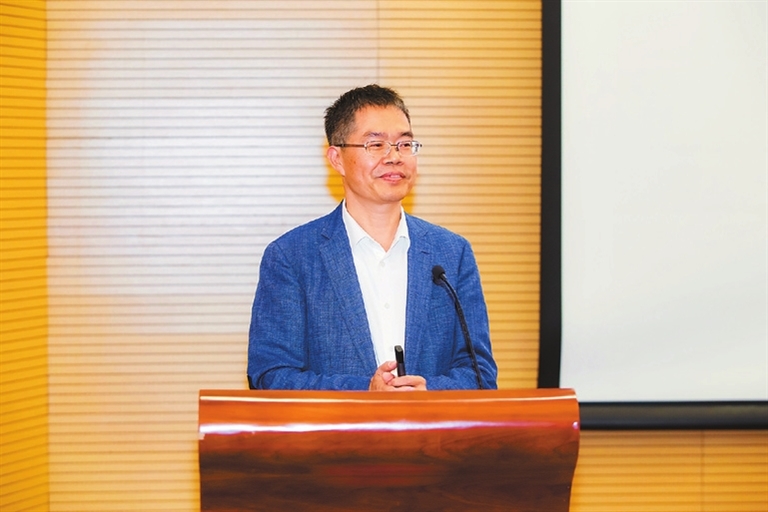 Yang Mei, Karen Lee
yangmei_szdaily@163.com
A ceremony was held on November 12 to unveil and inaugurate the Institute of Materials Research (iMR) at the Tsinghua Shenzhen International Graduate School (Tsinghua SIGS).
Those in attendance included Zhou Ji, academician of the Chinese Academy of Engineering (CAE) and professor of Tsinghua University's School of Materials Science and Engineering (MSE), Cheng Huiming, academician of the Chinese Academy of Sciences (CAS) and director of iMR, SIGS leaders, iMR faculty, student representatives and other guests.
Nan Cewen from Tsinghua MSE and Duan Wenhui from the Tsinghua Department of Physics, both academicians of CAS, joined the event remotely.
The ceremony was presided over by Kang Feiyu, associate dean of SIGS and executive vice director of iMR.
Addressing the ceremony, Cheng reported on the current status and vision of the institute. He looked back on the development of the materials discipline at SIGS, then revealed iMR's future plans and introduced the five newly established research centers for Energy Materials and Devices, Low-Dimensional Materials and Devices, Information Functional Materials and Devices, Biomedical Materials and Devices, and Material Design and Computation.
Cheng stressed that iMR aims to lead in the field of cutting-edge new materials and make important contributions to Shenzhen's role as a pilot demonstration zone and to the development of the Guangong-Hong Kong-Macao Greater Bay Area. It will further support Tsinghua University in building a world-leading materials discipline.
SIGS Executive Dean Gao Hong, Tsinghua MSE CPC Committee Secretary Yang Zhigang, academicians Zhou Ji, Nan Cewen and Duan Wenhui all congratulated iMR's inauguration in their speeches. They expressed hopes for the institute to build itself into a world-class platform for interdisciplinary materials research and to train high-quality personnel.
During the ceremony, Zhou Pengwei, a SIGS alumnus and chairman of Shenzhen XFH Technology Co., Ltd., a Growth Enterprise Market-listed company, shared his entrepreneurial experience. Student representatives Liu Yuanming and Luo Yuting also talked about their experiences at SIGS.