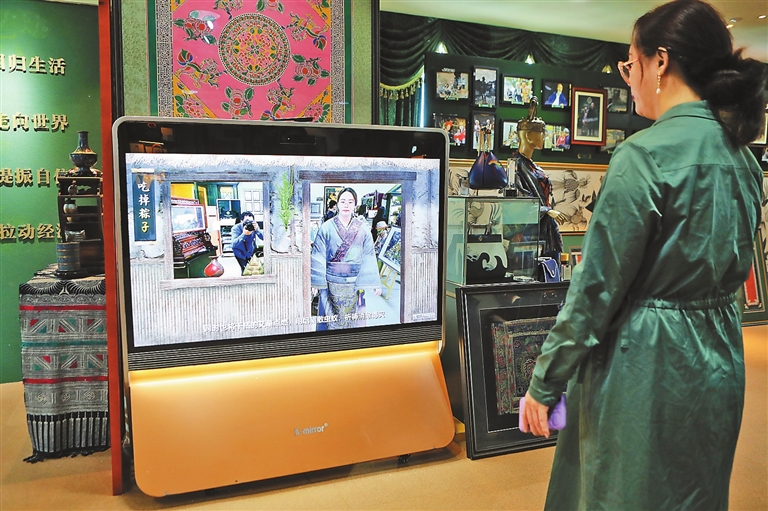 Zhang Yu
JeniZhang13@163.com
POWERED by advanced information technology, the 16th China (Shenzhen) International Cultural Industries Fair (ICIF) has gone online for the first time since its inception in 2004, embracing a new form of "cloud-based" exhibition in response to the COVID-19 pandemic.
Despite going virtual, the fair, like the previous versions, has continued to serve as an important platform to provide services for product promotion and matchmaking and business negotiations, enabling both Chinese and foreign businesses to place orders remotely, according to its organizer yesterday.
The zest of exhibitors and audience for this year's ICIF has not diminished one bit, as data showed that the number of online visitors had reached 480,000 two hours after the opening ceremony.
With the technical support of Chinese tech giant Tencent, the "cloud-based" ICIF has set up 12 virtual exhibition halls, pooling together 3,243 enterprises and institutions and 21,572 exhibits.
Each exhibition hall, distinctive in its own way, is able to provide an immersive experience for visitors through pictures, words, videos and sound and light effects by adopting Web-based 3D, an interactive 3D technology.
According to Wang Zhiteng, Tencent's technical director in charge of the ICIF project, the online fair has broken down the barriers of time and space by taking full advantage of Tencent's technical capabilities such as Tencent Cloud, big data, AI-powered translation engine, audio/video solutions and live-streaming service.
These technologies enable exhibitors to display products and projects in multiple dimensions and help cultural enterprises exhibit and make transactions at a lower cost, said Wang.
Other routine events of the ICIF, such as project presentations, new product launches and forums, are also achieved through the online platform. More than 300 videos can be simultaneously livestreamed on ICIF's livestreaming platform, and each video can accommodate 100,000 people to watch online at the same time.
"The use of high technologies allows exhibits to be showcased in a more comprehensive way," said Jiang Fei, an exhibitor from Harbin City in Heilongjiang Province.
Tencent has also built an online instant messaging platform to facilitate online negotiation and supply procurement for exhibitors and buyers. The online platform can support the operations of 5 million one-to-one, around-the-clock online chat rooms, said Wang.
The signing of contracts is also made efficient and convenient through technologies used in this year's ICIF.
The contract parties can use tablets and mobile terminals to access the cloud signing system. Meanwhile, the signing process can be transmitted to the other party's screen in real time through the 5G network.