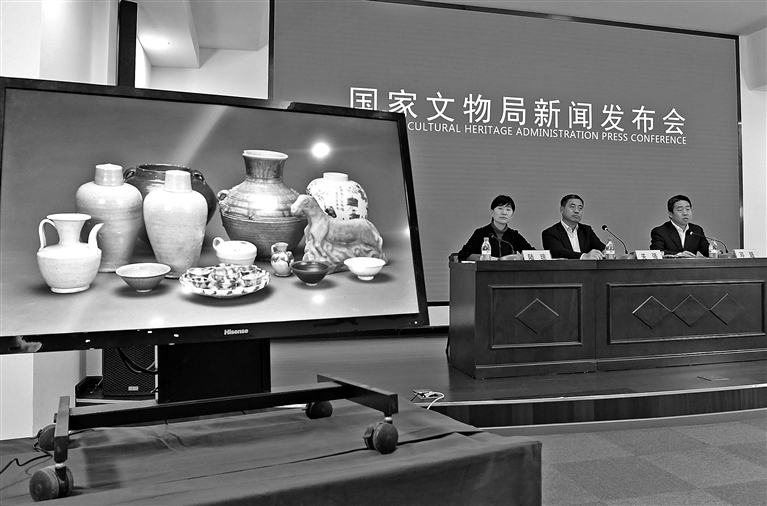 AFTER being abroad for decades, 68 Chinese cultural relics lost to the United Kingdom recently returned to their homeland thanks to the joint efforts of the two countries, according to a news conference of the National Cultural Heritage Administration yesterday.
The relics span a millennia of time periods ranging from the Spring and Autumn Period (770-476 B.C.) to the Qing Dynasty (1644-1911), and they encompass a variety of items including porcelains, copper wares and stone artifacts. They originate from provinces including Jiangxi, Anhui, Fujian, Henan, Shaanxi, Hebei and Guizhou.
"Their return marked a full period of quarter-century-long repatriation efforts," said Guan Qiang, deputy director of the National Cultural Heritage Administration.
According to Guan, back in February 1995, the British police authorities informed the Chinese Embassy in London that an investigation into the sale of stolen property involved a group of cultural relics, which were suspected of Chinese origin.
It received an affirmative response from the cultural heritage administration that they were smuggled from China.
British police seized all the relics in an operation in March that year. And the State Council, China's Cabinet, soon set up a special cross-department working group, seeking to bring them home.
In 1998, over 3,000 relics were returned to China, thanks to the cooperation of the law enforcement units, civil lawsuits, and negotiations, marking the largest-scale repatriation in a single instance of lost Chinese cultural relics.
However, a local buyer of some relics refused to join the negotiation, leaving dozens of relics in the U.K. and dragging the case into deadlock.
They were held in British police storage, but Guan said frequent contacts between the two countries' governments never stopped. A silver lining finally appeared.
In January this year, the Metropolitan Police Service in London informed the Chinese embassy again that the whereabouts of the buyer were unknown, and the deadline of prosecution had passed, showing an intention to transfer the ownership back to China.
The Metropolitan Police Service handed over the 68 relics to the Chinese embassy in October, and they safely arrived in Beijing on Oct. 20.
Also, the Nanjing Museum has received a batch of 361 relics and artifacts from the administration that had been returned by the United States.
(China Daily, Xinhua)