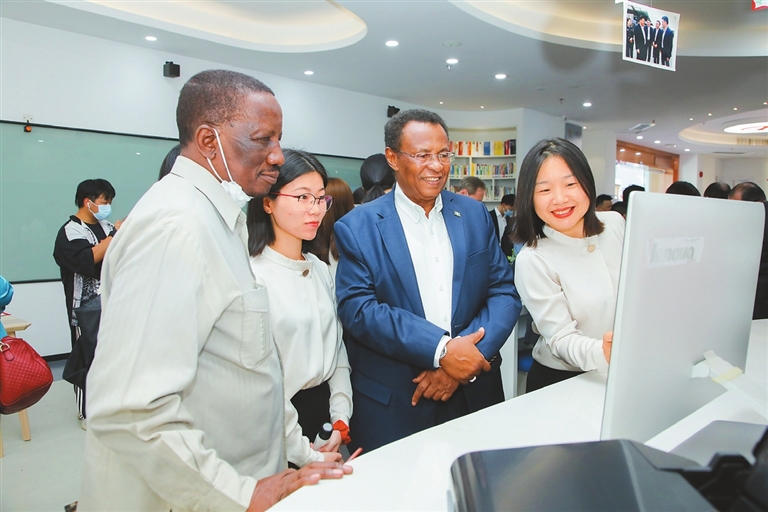 Han Ximin
ximhan@126.com
A DELEGATION of ambassadors and representatives of international organizations in China from 27 countries visited Shenzhen from Tuesday to Friday.
In the four days, they saw with their own eyes the city's fast development by visiting lead enterprises such as Huawei, Mindray and BYD, institutions like the Shekou Management and Service Center for Expats, and the Southern University of Science and Technology (SUSTech).
"The enterprises have invested a lot in innovation and developed new tech to change the life of people. It is very impressive," Mbelwa Kairuki, ambassador of Tanzania to China, said. It was his 11th visit to the city.
"I hope our country can cooperate with Shenzhen's science and technology innovation commission and learn from it," said Kairuki, adding Shenzhen enterprises can find more opportunities in Tanzania and Africa with the establishment of free trade areas on the African continent.
Ahcene Boukhelfa, Algeria's ambassador to China, thinks Shenzhen is a miracle by becoming a modern metropolis from a border town in 40 years.
"This is a good example. We can learn and try in our country," said Boukhelfa, who believes Shenzhen and the Guangdong-Hong Kong-Macao Greater Bay Area will surely have a bright future.
Shenzhen is not only an innovation hub in China, but a center of innovation in the world, said Gafar Karar, ambassador of Sudan to China.
"Shenzhen has become a world innovation city and proves possibilities of the future development of developing countries," Karar said.
He was also impressed with Lianhua Hill Park in Futian CBD.
"Seeing Shenzhen from the top of the hill, I see the miracle of the Chinese people, Shenzhen people and the Communist Party of China."
Imad Moustapha, ambassador of Syria to China, regards Shenzhen as a "school" for the world, which every country should come to learn.
"For me Shenzhen represents the future," said Moustapha, adding he was impressed with the pioneering spirit of the Chinese people.
At SUSTech, which marks its 10th anniversary this year, Maria Gustava, ambassador of Mozambique to China, expects that students from her country could learn technologies here, exchange with their Chinese counterparts and feel the vitality here in Shenzhen.
"Shenzhen and Mozambique have had cooperation in communications and we expect more," said Gustava.
The delegation also visited the Shekou Management and Service Center for Expats on Thursday afternoon, where they had a wonderful learning experience of Chinese paper cutting from local residents and made their own paper-cutting works.
"This is my cutting work. This activity is very meaningful, and I really want my children to have the opportunity to experience such a meaningful paper-cutting activity as well," said Moustapha. The staff prepared two sets of paper-cutting materials for him, and joked that he could be the child's paper-cutting teacher.
Marko Sujica, a resident from Croatia living in Shekou, participated in the paper-cutting activity. He sent a message to the center expressing his happiness about his participation.
Apart from paper-cutting, the self-service photo printer displayed in the center also attracted the attention of ambassadors.
(Hu Zhixin, Xiao Peishan also contributed to the story.)