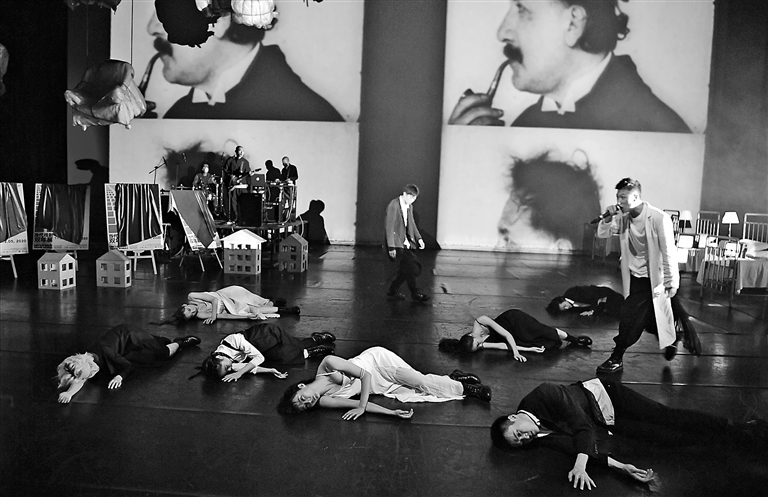 Debra Li
debra_lidan@163.com
A SHORT performance, an excerpt from stage director Meng Jinghui's new work "Einstein's Dreams," was unveiled at the opening ceremony for the third Futian Contemporary Theater Biennale at the Children's Palace theater yesterday afternoon.
Meng, an influential experimental drama director with lofty fame in Chinese drama circles, serves as artistic director of the biennale and said he was thrilled to finally introduce the event to audiences. Delayed by the COVID-19 pandemic and having reshuffled programs after some foreign theater troupes cannot travel to China, the current event, running 10 days until Dec. 5, will have 11 dramas, four exhibitions and several workshops.
The opening show, "Einstein's Dreams," is nothing like what we've watched from the director before. With a live band, a stage set reminiscent of a contemporary art exhibition, and a video being played as a backdrop, a group of young actors talk, move and dance in a dreamlike state.
"The inspiration for the work came from a letter written by Einstein," Meng said. "Without a definite plotline, the show is more of a dance drama that tries to get the audience thinking about such themes as time, history and the infinite."
Meng especially recommended young director Liu Chang's "Venus Diary," which will have its world premiere Dec. 4. Inspired by Alfred de Musset's comedy "No Trifling With Love," and paying homage to such great dramatists like Shakespeare, the drama, running three hours and 45 minutes, has a profound grasp of the psychology of love and presents multidimensional woman characters.
"Audiences will laugh from beginning to end watching this show, which will also provide a lot of food for thought," he said.
Several shows are based on classical literary works or innovate on past productions. Meng's other work "The Treasure Ship" is based on a children's literature piece by late Chinese author Lao She; director Su Xiaogang brings a new version of "Mauser" by the German dramatist and poet Heiner Muller; Li Yao moves "Hamlet" from an ancient palace into a modern kitchen. Ding Yiteng's "Trauma Fading Into the Night" is based on Mary Shelley's "Frankenstein," which speaks to the mysterious fears of the human nature.
Audiences can also watch director Zu Jiyan's humorous "A Cup of Coffee, a Drip of Love" and Cheng Wenming's profound and sad "Absolute Flight."
With a focus on dance and body movements, the event has three original shows "Still Here," "Moli" and "Bodyscape."
While three out of the four exhibitions will feature photos, posters and derivatives of theater, another will provide audiences with a VR experience.
Meng and several other directors and theater professors will present lectures and discussions at workshops on the sideline of the shows and exhibitions.
The first biennale, a 10-day event that took place in March 2016, drew more than 100,000 audience members.