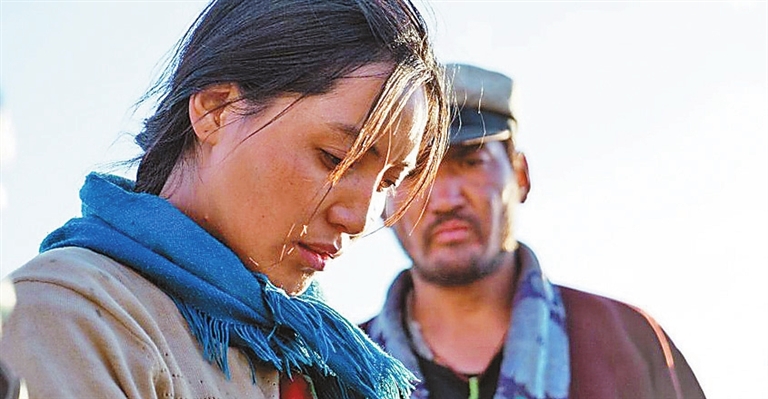 Starring: : Sonam Wangmo, Jinpa, Yangshik Tso Director: Pema Tseden
LOVE, death, reincarnation and sheep — many, many sheep — make a poetic and philosophical mix in "Balloon," the latest film from Tibetan director and author Pema Tseden, whose last film "Jinpa" won best screenplay award in Venice's Horizons section last year. A less fanciful brew than the genre-tweaking, narratively twisty "Jinpa," "Balloon" is a family drama in a realist mode, with a strong quasi-documentary ethnographic streak. But it also has a pensive philosophical dimension and a style that is open to moments of reverie verging on magic realism.
The Tibetan-language drama also shows Tseden as a terrific director of both professional and non-professional actors, with the intimacy between the members of a shepherding family emerging as one of the richest aspects of this modest but maturely charming piece.
Shot largely around Qinghai Lake, "Balloon" is a close study of a Tibetan family who raise sheep: father Dargye (Jinpa, star of Tseden's film of that name), mother Drolkar (Sonam Wangmo, also in "Jinpa"), Dargye's elderly father (Konchok), their two young sons, and a third son, Jamyang, of high school age.
The film starts off in larky mode as the two young boys play with balloons they have blown up — except that they are taken from the dwindling supply of condoms belonging to their parents. This has repercussions for Dargye, who finds himself getting into an argument with an angry local dad shocked at the boys' behavior — leading to a punch-up in a trough of sheep dip.
Introducing a more contemplative theme is the return to the family home of Droklar's sister Shangchu Drolma, a.k.a Ani (Yangshik Two), a young nun who stops by Jamyang's school to collect him — only to run into his teacher Dakbum Gyal. This solemn young man, it turns out, once broke Ani's heart — apparently the reason she became a nun. He presents her with the novel he has written about their relationship — entitled "Balloon" — which sets the young woman soul-searching for much of her stay. Then grandfather dies, raising the question of when his soul will be reincarnated. The likely answer becomes a hotly contested issue in the family, leaving Droklar in particular to make a difficult choice in relation to official Chinese policies on family planning.
A constant background to all this, providing humor as well as cultural detail — and also bringing human existence into parallel with the processes of nature — is the presence of the family's herd of sheep, and of a newly acquired, magnificently horned and highly priapic ram. The film's expansive landscapes, magnificently shot in assorted frosted hues by "Jinpa" DoP Lu Songye, are all the more striking when sheep are running in every direction over them, flowing across the plains like woolly streams of mercury.
Shifting its focus between characters, but coming to somewhat favor Drolkar and her dilemma, the film doesn't have either the narrative focus nor the surprises of "Jinpa," coming across as a more familiar exercise in Asian rural fiction, rather in the vein of Sergei Dvortsevoy's "Tulpan" or Wang Quan'an's recent Mongolian story "Ondog." For a while in the second half, its various threads being to feel overextended, seem to be leading nowhere; but the open ending given poetic lift by a final image provides a quietly resonant metaphor to leave us with.
Less stylised than "Jinpa," with its knowing cowboy and road movie borrowings, "Balloon" occasionally mixes heightened beauty into its realism, with some vivid post-production color work (e.g. yellow skies reflected in pools in blue-black earth) adding a dream-like feel. The cast is strong and intensely believable across the board.
The movie is now being screened in Shenzhen. (SD-Agencies)