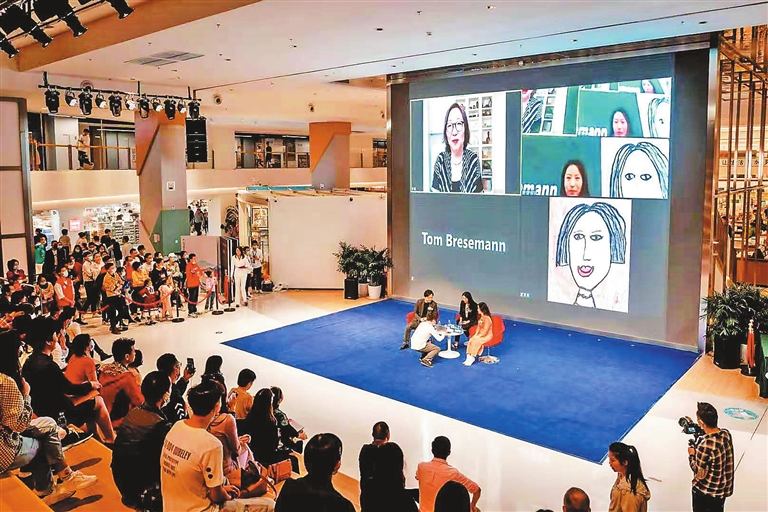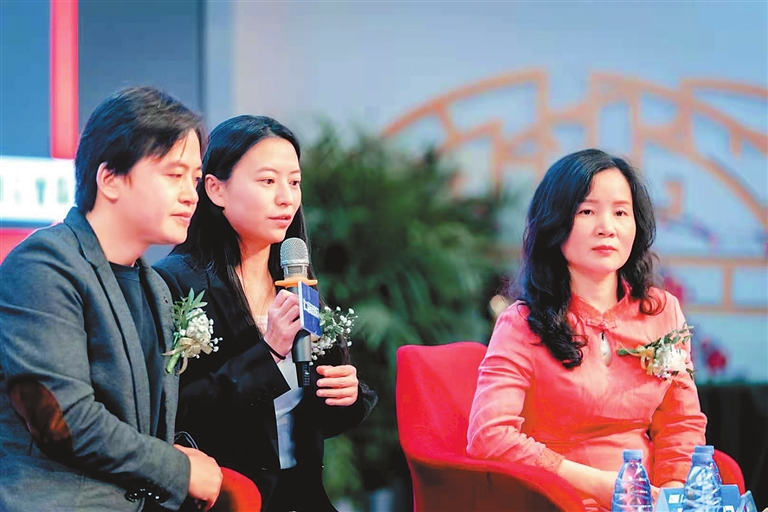 Debra Li
debra_lidan@163.com
WHILE hundreds of thousands of people were attracted to the Shenzhen Book City CBD Store and the book fair at the plaza next to it Sunday, the cultural and art venues still remain closed in Berlin, Germany, where everyone is worried about the COVID-19 pandemic.
From the living room of his home, Berlin-based author Tom Bresemann joined local author Wang Weilian and local poet Ruan Xuefang on a video conference broadcast live to visitors at the Book City outlet.
An event highlighted during the Shenzhen Reading Month (every November), the trio shared their experiences and thoughts on the literary exchange between German and Chinese authors and readers.
Chinese readers are most familiar with literature greats from Germany Such as Geothe, Thomas Mann and Hermann Hesse, said Wang.
Rather than by "Faust," many Chinese readers get to know Goethe through his beautifully written romantic novel "The Sorrows of Young Werther."
Ruan said Hesse's 1943 book "The Glass Bead Game" had a huge influence on her. "The use of symbolism and defamiliarization in his work had led me to think more profoundly about life and explore new ways to write poems myself."
Apart from the above-mentioned authors, Wang said German philosopher and author Nietzsche also had a large influence on Chinese readers through the late Chinese author Lu Xun (original name Zhou Shuren).
Chinese readers are also familiar with Gunter Grass, Germany's most celebrated contemporary writer, who attained worldwide fame with the publication of "The Tin Drum" in 1959.
Another German author Hernhard Schilink became known by the Chinese through his fiction "The Reader," which was adapted into a 2008 movie.
Bresemann, a poet and co-founder of the Lettrétage in Kreuzberg, one of the leading literature houses in Berlin, said he was impressed that Chinese readers are so well read in German literature.
"Germans got to know classical Chinese authors through translated works since the 1800s," he said.
Wolfgang Kubin, a renowned sinologist, has done a lot of work translating and introducing more recent literary works from China.
There are also a few others who translated contemporary Chinese poetry into German, and Bresemann said he especially loves the works of Xi Chuan, a contemporary poet who started publishing works in the 1980s.
"The images in Xi Chuan's poetry are striking and thought-provoking," he said. "We've had very different life experiences, but I can resonate with his works."
Bresemann said that Berlin is a secret literature capital in Europe and a paradise for authors and artists. There are quite a few literature houses — a kind of writers' community — in the city, such as the LCB, Brecht-Forum and LesArt, the Berlin Center for Children's and Youth Literature. His Lettrétage literature house, started in 2006, organized 60 to 80 literary events per year before the pandemic, from international festivals to new ways of literary presentation, book readings and discussions.
Defining himself as a "political author," Bresemann said his texts can be read as a checking, focusing, follow-up, listening, questioning, and sharpening of the thoughts life has spawned. Poems and literature create a possibility to communicate brusque and blatant ideas, first and foremost with the poet himself.
"For me, literature is primarily a communication tool. Nothing needs to be taught or learned. It's important to take up the conversation and not to let it break off, to understand literary texts as testimonies of being here and being like this," he said.
All three at the video conference expressed hope that there would be more communication and exchanges between authors and poets of the two countries, which may inspire the creation of great works.
For one thing, Hesse's "Siddhartha" was inspired by his visit to India before World War I.
This event, following a seminar between local authors and their counterparts from Austria and France last year, was the second Bi-city Reading Forum organized by the Shenzhen Publishing Group (SPG) and Easyread Books.
Meanwhile, an old-for-new book recycling project initiated by SPG was also launched Sunday.