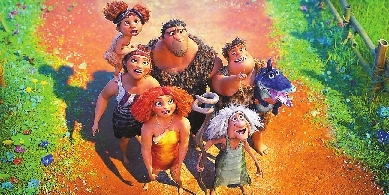 UNIVERSAL'S "The Croods: A New Age" was the decisive winner of a competitive three-way race at China's box office over the weekend, topping both holdover local hit "Caught in Time" and the latest release from venerated Chinese filmmaker Zhang Yimou.
"Croods 2" opened in China to a healthy US$19.2 million, which was US$5 million more than its five-day holiday start in North America. Worldwide, the animated family film has earned US$35 million — the best Hollywood studio rollout in weeks, as the pandemic continues to weigh on key markets around the globe. The first "Croods" film grossed US$63 million in China.
"Croods 2" started the weekend from behind, earning just US$3 million on Friday, behind US$3.2 million for "One Second" and US$3.4 million for "Caught in Time." But the animated sequel quickly struck a chord with filmgoers. By Monday, "Croods 2" had a score of 9.1 out of 10 on ticketing app Maoyan and 8.2 from film site Douban's user community.
Directed by Joel Crawford, the voice cast of "Croods 2" sees the return of Nicolas Cage, Emma Stone, Ryan Reynolds, Catherine Keener, Clark Duke and Cloris Leachman. Franchise newcomers include Peter Dinklage, Leslie Mann and Kelly Marie Tran.
"Caught in Time," produced by Hong Kong's Emperor Motion Pictures, fell to second place for the full frame with US$13.7 million, while Zhang's "One Second," backed by Huanxi Media, landed in third with an opening of just US$10.6 million, according to data from Artisan Gateway.
Zhang has referred to "One Second as his "love letter to cinema" and acknowledged that the movie is much more art-house in style and pacing than his more recent action releases. The film has been well received by local critics but it proved a tougher sell to mainstream filmgoers, scoring a middling 8.7 on Maoyan and 7.9 on Douban.(SD-Agencies)