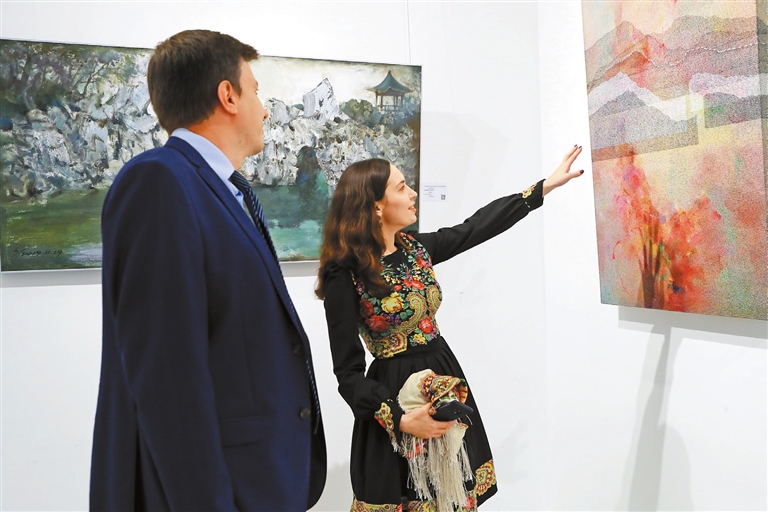 Wang Jingli
wangjingli0715@163.com
THE opening ceremony to kick off the Belt and Road International Artists Union China-Russia Painting Exhibition was held at Shenzhen MSU-BIT University (SMBU) in Longgang District yesterday afternoon.
More than 70 paintings highlighting cultural spirits in cities, created by contemporary artists from China and Russia, are being shown at the exhibition on the first floor of the campus' main building.
The Russian works of art are mainly oil paintings while those created by Chinese artists include oil paintings, woodcut prints and watercolors.
Moreover, over 100 paintings are available on an electronic screen placed inside the exhibition area.
The exhibition will end March 10 next year.
Aleksandr Smirnov, acting consul-general of the Russian Federation in Guangzhou, appreciated that the exhibition provides a chance not only for people to learn about both Chinese and Russian cultures but also for artists to exchange ideas.
He said that people don't need to understand languages to learn about the two cultures when admiring paintings.
Li Hezhang, president of SMBU, said at the opening ceremony that the exhibition is a valuable art event for all teachers and students in SMBU.
"Art plays a role in promoting cultural exchanges between China and Russia," said Li.
Li also called for more artists from Russia and China to make exchanges at SMBU.
The exhibition was organized by SMBU and Shenzhen University.