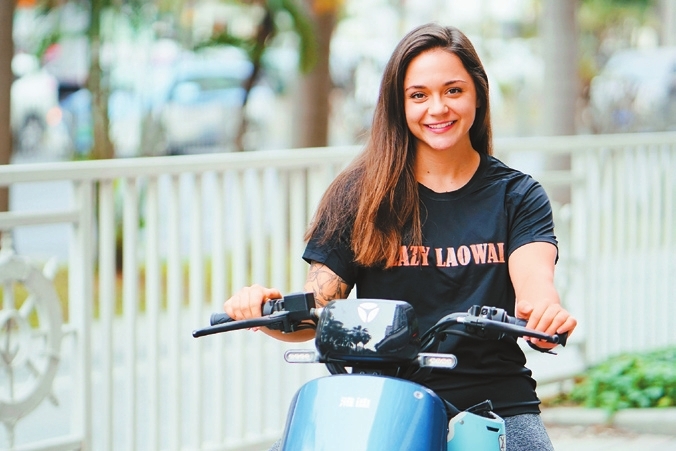 This is the 18th of a series of reports on expats sharing their stories with the Shenzhen Special Economic Zone, which celebrates its 40th anniversary this year.
Wang Haolan
Holly_cn@163.com
RACHEL WATERS led a busy life commuting for her postgraduate studies, professional volleyball games and an internship at a soccer club in the English Premier League in 2018, and now she still keeps herself busy in Shenzhen at a local fitness community, "Lazy Laowai."
Waters was still halfway through her busy schedule while parking her blue scooter at the doorstep of the interviewing spot.
She sat down for a cup of hot Irish coffee wearing a Lazy Laowai T-shirt, gym leggings and athletic shoes with a large backpack on her shoulder, stating that she would be going to work at the Lazy Laowai gym in Shekou at 5 p.m.
Born in South Carolina, the U.S., Waters obtained her bachelor's degree in communications and headed to Bournemouth in the U.K. in 2017 to play professional volleyball and to pursue her master's degree in corporate communications.
"I worked as an intern at a side office of NBC Sports in Frisco, Texas, for three months, where I was able to get in touch with professional players, interview people and edit videos," she said.
"I loved it but what I really wanted to do is to become the one being interviewed by others, and I decided to go overseas to play professional volleyball at the age of 20.
"I started very late compared to other professional players and I'm very short," said Waters. "I took the position of a libero for my team at England's professional volleyball league. Besides indoor volleyball, I also played on the beach," said Waters.
Waters moved to Shenzhen in October 2018 to play for a professional volleyball team and worked as an English teacher and a TV anchor thereafter. She was invited by her friends to work as a manager at Lazy Laowai this year. The community was launched in 2018 and has so far grown into a large fitness group with over 1,000 members and now operates a gym near Sea World.
Waters' position at Lazy Laowai is as a manager, but she is able to do different kinds of job such as coaching and event planning. "Sometimes I also make announcements and posters for the event," she said.
"I didn't know anything about Shenzhen when I first came here — even found it hard to correctly pronounce its name. Now I've been here for over two years and have no plans of moving away yet," said Waters.
Over the past few years, Shenzhen has hosted a collection of international sporting events such as the FIBA Basketball World Cup 2019, the WTA Finals, and the Trophée des Champions. As an ex-professional player and a keen sports enthusiast who likes playing volleyball and working out at the gym in her spare time, Waters felt those events are a good indication of Shenzhen's opening up and will let more people from across the world to learn more about this metropolis.
"Still, I wish that there could be more extracurricular sporting programs for the youth in Shenzhen, especially for those who intend to become professional players," said Waters.
Waters held that the biggest changes she has witnessed in Shenzhen over the two years is the opening of new Metro lines. "I lived in Yantian District when I first came here. When I was about to go to the downtown areas, I needed to take a bus for about 45 minutes to get to Huangbeiling Station and then transfer to a Metro or take a taxi for about half an hour to get to the nearest Metro station. Now, the Metro has stops there," she said.
The 24-year-old is now living with her roommate and the dog she adapted from the neighborhood in Shekou. She saw the subdistrict as a livable "home away from home" for expats thanks to its friendly residents, well-equipped support facilities, and good service provided by the local authorities.
"The staff at the expats service center nearby are super helpful when I renewed my passport there before. They reminded me the date of the appointment and the time when the lines are not busy and let me reach out to them if I have any questions," said Waters.