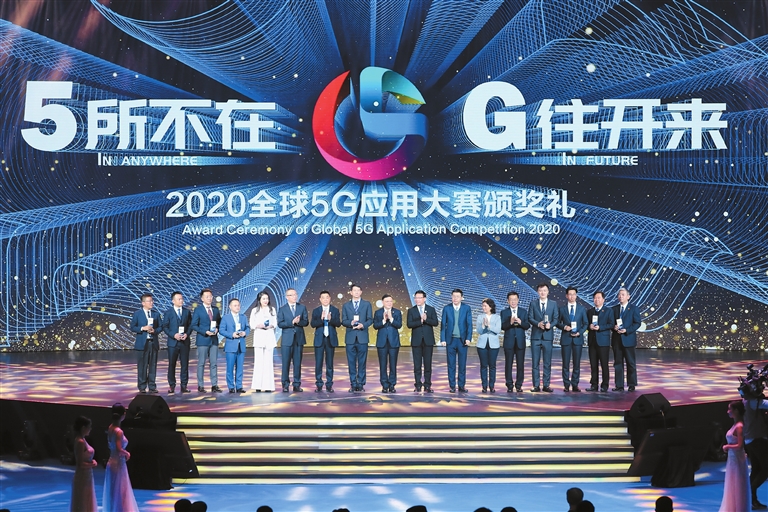 Xia Yuanjie
szrbgracexia@126.com
"HUAWEI Cyberverse x 5G" won the Supreme of The Year Award and a prize of 8 million yuan (US$1.2 million), the highest award at the Global 5G Application Competition 2020, at an award ceremony at Shenzhen Bay Sports Center in Nanshan District yesterday.
Huawei Cyberverse is a cloud technology with augmented reality available with 5G. It incorporates device technologies such as 3D ultra-high-definition maps, spatial commuting, scenario understanding, ultra-realistic immersive rendering and the 5G network. By connecting users, space and data through spatial computing, it provides Huawei's mobile device users with a brand-new interaction mode and unparalleled visual experience. Huawei made up 39.85 percent of the global market share in 5G network devices in the first quarter of this year.
It was one of 11 winners awarded at the ceremony, attended by Shenzhen Party chief Wang Weizhong and Mayor Chen Rugui.
The Application Excellence Awards with a prize of 1 million yuan (US$153,000) each went to "U+5G AR/VR Service," "5G Smart Networked Vehicle Multi-Scene Integrated Demonstration Project," "5G Smart Airport Joint Innovation Application Project," "5G Smart Grid" and "5G Cloud-based PLC Application Solution."
Another five projects, namely "5G Security Inspection Robot ANDI," "5G + 8K Multiform Terminal Live Streaming System," "5G + Network 3D Cinema," "5G Remote Ultrasound Robotic Diagnostic System," and "Application of 5G + AI Intelligent Locomotive in Shield Construction of Subway Construction" were the winners of the Product Excellence Awards, also with a prize of 1 million yuan each.
The event also arranged 5G application product launches and interactive sessions, where attendants can experience the winning 5G products.
The contest received 125 entries from six countries and regions.
As the first city in the world to realize full-scale 5G deployment, Shenzhen takes the lead in making breakthroughs in research of basic materials and core components; deepening integrated applications of industrial Internet, automotive networking and smart ports; and building a comprehensive 5G application ecosystem.
By the end of 2022, Shenzhen is expected to establish two 5G industry clusters worth over 100 billion yuan.