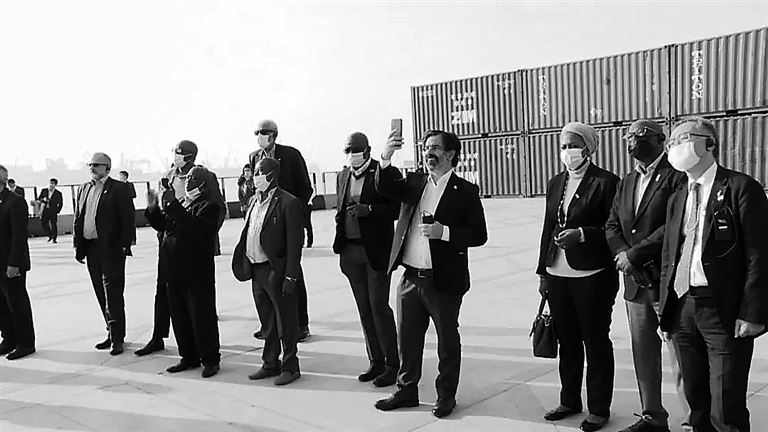 A DELEGATION of ambassadors and representatives of an international organization in China from 22 countries visited Shenzhen between Saturday and Tuesday.
In the four days, they saw with their own eyes the city's fast development by visiting leading enterprises, Qianhai International Convention Center, Lianhua Hill Park and the Baihua child-friendly block.
After seeing the photo exhibition marking the 40th anniversary of the establishment of the Shenzhen Special Economic Zone, Robert Quant, ambassador of the Bahamas to China, said he learned a lot from China through Shenzhen's development and achievements over the past 40 years. It is spectacular and could only happen in China.
At the top of Ping An International Financial Center, to have a panoramic view of the city, Simon Adovelande, Benin ambassador to China, said he could see the achievements of the city in infrastructure and urban afforestation, one aspect of the city's great achievements.
Chen Jiahui, Suriname's ambassadress to China, said she could not recognize Shenzhen every time she came because the city developed so fast.
"Shenzhen is really an attractive city with a lot of opportunities for young people," said Chen, who came to Shenzhen at the age of 5.
It was the sixth time for Djauhari Oratmangun, ambassador of Indonesia to China, to visit the city. "I think Shenzhen completed the goal of 100 years over 40 years under the support from the Central Government," said Oratmangun.
"Shenzhen is a great city for me who comes from an island country. Driving along the roads that are lined up with tropical plants, you don't feel you are in a city of skyscrapers," Wong Yen Cheong, Mauritius ambassador to China, said.
"This is a beautiful and cool place. I hope the world can see what is happening here," Wong said.
On a double-decker sightseeing electric bus, Isabel Domingos, Sao Tome and Principe ambassadress to China, said Shenzhen made remarkable achievements in using new energy buses in public transport and it is an example to the world.
In Iceland, many people have began to choose e-powered cars. Gunnar Gunnarsson, Iceland's ambassador to China, hoped to have a chance to cooperate with BYD after the visit to the factory.
"Shenzhen is a future city that is hard to predict because it develops so fast," said Gunnarsson.
After learning about the smart port construction of Mawan Port, Ali Dhaheri, United Arab Emirates ambassador to China, hoped to find a way to cooperate with China Merchants Shekou Industrial Zone, especially in the application of technologies in port operations and management. (Han Ximin)