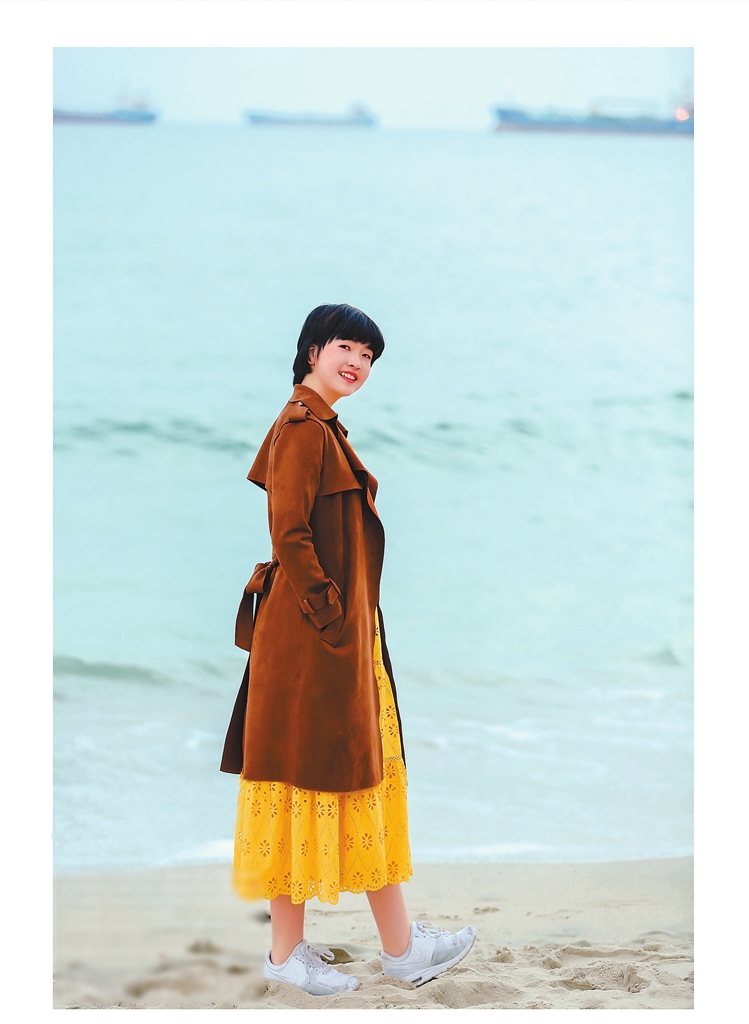 Song Yingwen
ywennsong@hotmail.com
What have been your greatest life challenges so far? How did you handle them?
In her English-language story collection "Angel With Broken Wings: Interviews on Rare Diseases," 18-year-old Shenzhen girl Jiang Mengyuan presents readers with answers from six young rare-disease-victims and their families, as well as her own personal answers.
But don't get it wrong, this is not a self-help book of any kind that gives teachings on life, although readers may eventually find themselves impressed by or even benefiting from some of the valuable concepts revealed by the young writer in her open and candid account that is full of compassion. Jiang, who is now a student in the last year of high school in New York in the U.S., wrote the stories to bring attention to the small group of victims of rare diseases and their family, in hopes of bringing the urgency for research in treatment and cures in this field to the fore.
"I felt this is something I can do for my lost brother," she said.
Jiang's elder brother Jiang Lai suffered from a rare disease called Duchenne Muscular Dystrophy and passed away at the age of 18 in 2013. Jiang Mengyuan was 11 that year. The two had shared a close relationship, and the brother's death was an obstacle for the young sister.
"There has always been guilt deep in my heart, for not being able to do more for him," she said. So writing seemed a natural choice for her. "At least, this is something I can do at the moment for people going through the same struggle as my brother and my family did years before. The idea that I can do my part to bring some focus to these people is a comfort to me," the young girl said.
Rare diseases are not so rare after all. The definition of rare diseases varies in different countries. In the EU, any disease affecting fewer than five people in 10,000 is considered rare. In China, that ratio is one in 500,000. According to WHO figures, currently there are between 5,000 and 8,000 kinds of rare diseases, affecting more than 400,000 million people globally. In China, 16.8 million people are suffering from rare diseases. In Jiang's collection, she recorded the stories of six families with young victims of uncommon diseases in Shenzhen, demonstrating the difficulty of diagnosis, the limited resources for treatment, and the lifelong challenges for families taking care of the young patients.
It took Jiang almost two years to research, interview and write the collection, a move described as "an endeavor with vision" by Shu Yizhi, person in charge of the rehabilitation department of the Shenzhen Comprehensive Service Center for the Disabled. Shu helped arrange the interviews in Shenzhen.
Similar interviews are also being conducted in the U.S. in Jiang's spare time. "It's a growing project," explains the young writer who is determined to bring the research beyond country borders. Her future academic choices in public health policy and management plus economics, will definitely help carry further her efforts to render assistance to the vulnerable group of rare disease patients and their families. "Writing is what I can do now, but I will prepare myself for the future work," she said.
Though topics on diseases and seemly hopeless struggles are heavy and stressful, Jiang said she was most grateful for the lessons her interviewees opened up for her: the power of family understanding and compassion, the force behind a positive attitude, and the importance of persevering. However, it is the legacy of her beloved brother that help shape her today: When facing challenges, confront the misfortune and find the opportunity in the luck life grants; do not wallow in what have been lost, but recognize what one has.
As Jiang wrote in the book, "I had my brother's inspiration to propel me forward toward a life with meaning and grace," the young girl is learning to live life to the fullest.