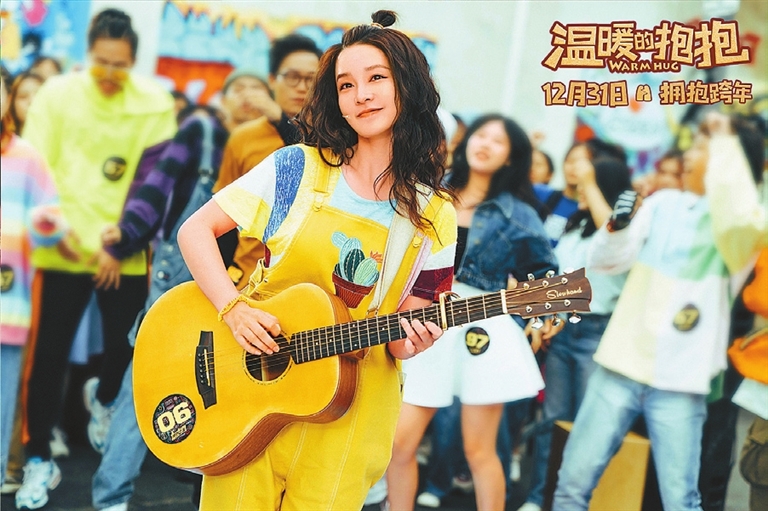 "Warm Hug," a Chinese remake of the 2014 South Korean comedy "The Plan Man," has gathered some of the country's most popular comedians, with an attempt to tickle the funny bones of domestic audiences at the close of this year.
As the directorial feature debut of Chang Yuan, a crosstalk performer-turned-actor who shot to fame through the 2015 sleeper hit "Goodbye Mr. Loser," the new movie casts young actress Li Qin in her first role in a comedy.
Set to open tomorrow, the movie also reunites the renowned comedians Shen Teng and Ma Li, who have accumulated national popularity thanks to a series of comedies they starred in together, from the 2015 sleeper hit "Goodbye Mr. Loser" to one tale of the 2020 five-tale anthology "My People, My Homeland."
In the new movie, Chang plays a piano teacher struggling with obsessive compulsive disorder. Haunted by the belief that he is a loser incapable of winning others' attention, the depressed teacher makes a detailed suicide plan which accurately times everything, from jumping off a high building to getting his "corpse" transported by a funeral hearse.
Interestingly, his plan is disturbed by a musician played by Li, who not only reignites his passion for life but also persuades him to join her as a duo to contend for a TV singing contest.
Most of the leading actors gathered to promote the film at the Beijing premiere last week. Chang, who has spent three years polishing the script, revealed that his main impetus to direct this feature was that he felt the main character was quite relatable.
"It's a heartwarming tale which features a well-rounded character who promotes positive messages about the value of life while also arousing some deeper thoughts. We wish the film will bring warmth to audiences to bid farewell to this unusual year," said Chang. (China Daily)