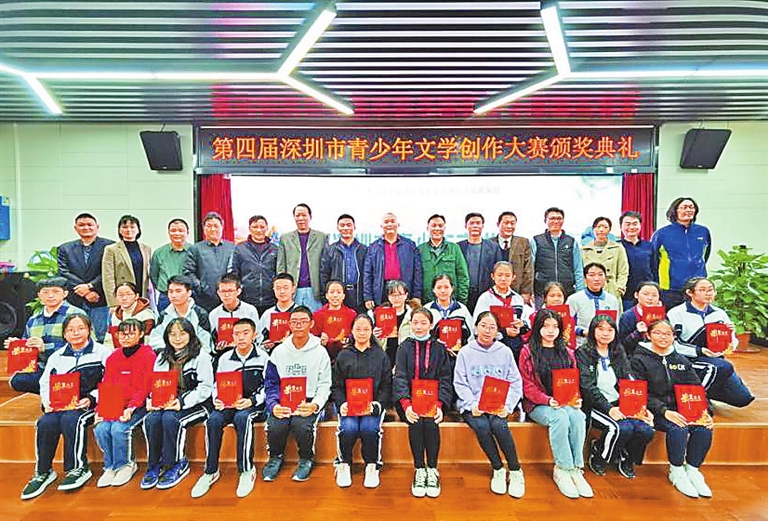 A total of 36 young writers have stood out at the 4th Shenzhen Teenager Literary Competition, showcasing their stellar flair for literary creation.
An award ceremony was held at Haiwan Middle School in Xixiang Subdistrict, Bao'an District on December 20.
The literary competition was launched on August 1 and solicited contributions from junior and senior high school students in Shenzhen. More than 2,000 entries had been collected by the deadline of November 15.
After strict preliminary and final evaluations by the organizing committee, 36 works were shortlisted and given awards.
According to the judges, the award-winning works of this year's competition are impressive in their expressions of themes of reality and fantasy, and in their excellent use of short story, novella and non-fiction genres.
The budding writers' cognition of society, reconciliation of troubles, healing of pain, understanding of emotions, and exploration of the universe and the unknown are vivid and touching.
The special life experience in the COVID-19 pandemic has also become a source of inspiration for contestants in narration to express their thinking about life as well as the benevolence and righteousness of human nature.
Li Siqi, the first prize winner of the junior high school group in last year's competition, wowed the judges and carried off the first prize again this year.
Li's novella "Rubik's Cube" is set against the backdrop of the COVID-19 pandemic. Utilizing lively language, through the presentation of a warm story of the protagonist's family, it describes the study and life of young students along with all their twists and turns.
Wu Yixuan, an 11th grader from Shenzhen Futian Foreign Language High School, was the top winner of the senior high school group.
Wu's science fiction novel "1127" puts forward a brain-racking proposition: how can human beings get along well with robots for a long time?
According to the judges, Wu has kept her imagination close to life. The setting of every link in the novel is real and reasonable and the story gives readers unexpected surprises as it develops.
(Zhang Yu)