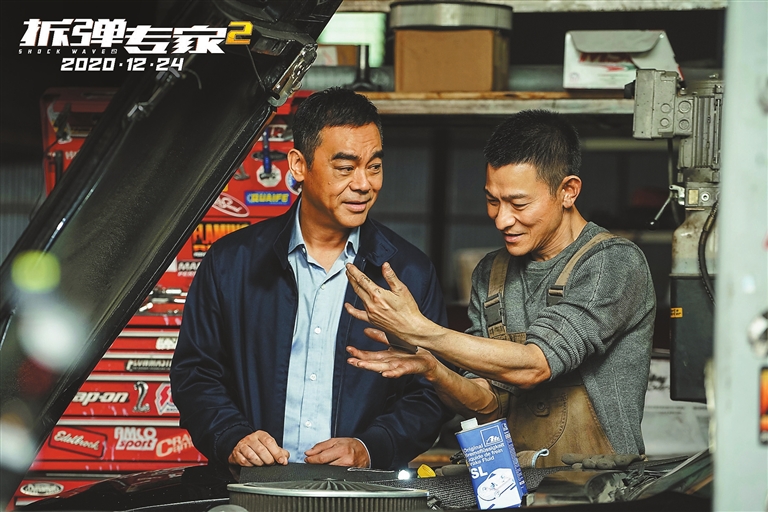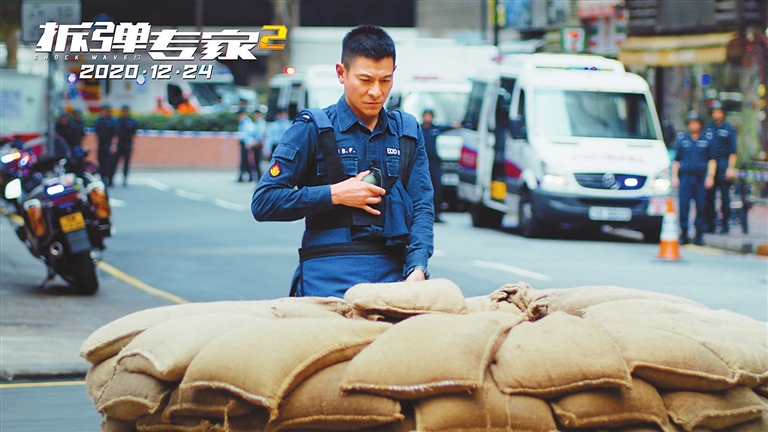 Starring: Andy Lau,Sean Lau,Ni Ni, Tse Kwan-ho, Philip Keung, Ron Ng, Marc Ma, Wong Tak-bun Director: Herman Yau
Zee Wong
zedwong126@126.com
THREE years after the 2017 film "Shock Wave," director Herman Yau tells a brand-new story in "Shock Wave 2" by unusually juxtaposing both the hero and the villain within the protagonist Poon Sing-fung (Andy Lau), a former superintendent of EOD, the explosive ordinance disposal bureau of the Hong Kong police department.
The character development was done through a succession of events beginning with a grenade disarmament and bomb disposal, which was gripping and visually impressive. Poon was first presented as a professional bomb disposal officer who would risk his life to save civilians.
Unlike many films in which the protagonist emerged from ordeals unscathed, Poon lost his left leg while disassembling a bomb alongside his comrade-in-arms Tung Cheuk-man (Sean Lau). Nonetheless, he remained a fighter after recovery and went through rigorous training with a prosthetic, hoping to return to the frontline.
While Poon saw Tung shouldering great responsibility in EOD, he was rejected for being disabled and offered alternative positions. This rejection brewed resentment in Poon's heart and he himself became a ticking bomb — protesting recklessly in front of the media, constantly throwing fits, and eventually breaking up with his girlfriend Pong Ling (Ni Ni), the chief inspector of the Counter Terrorism Response Unit. Each step led the way to his connection with the terrorist group Vendetta.
Although some may question that the shift of value within Poon occurs too abruptly, it draws a fine line between good and evil, and invites the suspense as Poon suffered post traumatic amnesia after falling into a coma during a bomb attack at a hotel. He was told by a police officer that he was the suspect of the explosion causing many deaths and injuries. When Poon became a fugitive from the prison, his ex-girlfriend Pong, told him otherwise, that Poon had gone undercover to defuse the bomb and unveil the terrorists' scheme. It is left up to Poon to decide whom to side with, and his choice determines the destiny of the city.
As to visual effects, "Shock Wave 2" began without an introduction, immediately jumping to a catastrophic explosion at Hong Kong International Airport, caused by a Davy Crockett, one of the smallest nuclear weapons ever built. At its detonation, shock wave rippled through Chep Lap Kok Island, plunging the site of the airport into ruins. This unexpected episode provided powerful auditory and visual stimulation so early on that it unquestionably raised the expectation of the audience. The director did not fall short of such anticipation by creating the epic explosion at Tsing Ma bridge with the bridge collapsing, trains flying, and water roaring during the grand finale.
In addition to the explosion scenes, Lau's fist fight, gunfight, and chase scenes were weaved into a well-knit plot, making the experience of this two-hour film seem shorter than it actually was.
The movie is now being screened in Shenzhen.