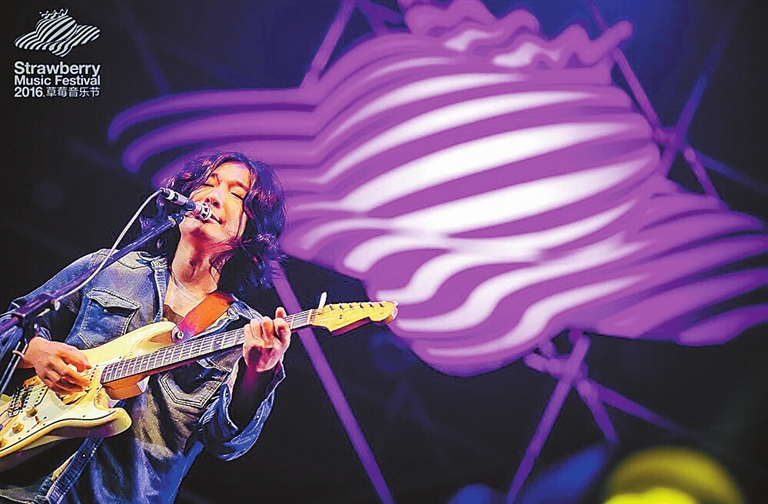 Cao Zhen
caozhen0806@126.com
THE much anticipated and long-awaited (10 years, actually) new album by Chinese alternative rock band Omnipotent Youth Society has received a score of 9.3 out of 10 on the Chinese reviewing website Douban since its release Dec. 22, creating a frenzy among its fans in the last two weeks of the year 2020.
The studio album, "Inside the Cable Temple," has nine tracks. The first 44-minute track is a combination of the following eight tracks which consist of five songs and three instrumental pieces. Many fans acclaimed that the band is very bold to combine eight tracks into a long 44-minute track.
As of Thursday, more than 420,000 copies of the digital album, which is priced at 22 yuan (US$3.4) on the NetEase Cloud Music app, have been sold, a very high sales number for a rock band in China.
Based in Shijiazhuang, the capital of North China's Hebei Province, the band released its first album "Omnipotent Youth Society" in November 2010. "Inside the Cable Temple" is the band's second album and continues to express helplessness and depression.
If the first album records tales of ordinary people in the less-glamorous city of Shijiazhuang which has a solid industrial foundation, the second album focuses on nature which is damaged by mining and ore extraction and on individuals' helplessness and confusion in this era.
With Dong Yaqian (vocal, guitar, composer), Ji Geng (bass, lyrics writer) and Shi Li (trumpet) as core members, the band seldom talked at gigs, nor received media interviews. Ji once said that if the songs they wrote were not satisfactory, they would not consider issuing new albums.
The band's songs are acclaimed by critics and fans for delivering sophisticated musicality and thought-provoking lyrics, with beautiful acoustic harmony sprinkled with subtle woodwind, brass, strings and keyboard.
Dong's voice is still clear and soft, Ji's lyrics are always poetic but powerful and resonant, and Shi's trumpet playing is captivating and exciting. In their new album, more jazz style is incorporated, with famous saxophonist Nathaniel Gao writing the wind part and performing the alto saxophone part for some pieces. In a song, a crisp jazz piano melody is mixed with the harsh sound of a mountain blast, which is very experimental.
Formed in 1996 by Dong and Ji who live near some major factories in Shijiazhuang, the band, influenced by King Crimson, made its Beijing debut in 2007 at a live house, and its self-produced first album won many Chinese music awards in 2010 and 2011. After signing with the Modern Sky label in 2014, the band has regularly headlined major festivals in China.
A U.S. fan in New York City praised the band's first album "Omnipotent Youth Society" on Amazon on Dec. 28, saying "I walked into a record store in Beijing about seven years ago and asked the man to give me something that was like 'a Chinese Radiohead.' He handed me this, and I have not stopped listening to it since. I only have a vague understanding of Mandarin, but the melodies, phonetics, and instrumental are all top class."