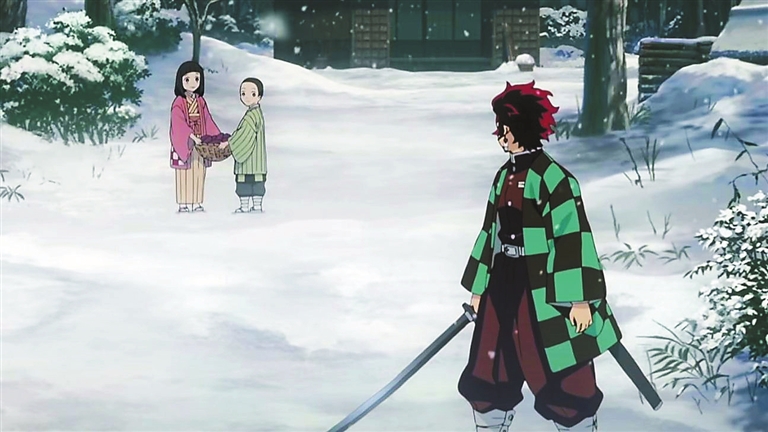 "Demon Slayer: Kimetsu no Yaiba" made quite an entrance in the anime industry as one of the best anime of 2019.
The story follows Kamado Tanjiro, a young boy who lives a happy life in a village by selling charcoal. However, one day his family gets attacked by a demon and devoured. The only one who survives, apart from himself, is his younger sister Nezuko, who is turned into a demon. She might've become a demon, but Nezuko's human feelings remain deep inside her, and she can hold the urge to devour humans.
Tanjiro trains hard to become strong and joins the Demon Slayer corps, hoping to turn his sister back into human form. He gains the power to fight against demons and prepares for the day that he will defeat his ultimate enemy.
The movie, released in 2020, picks up the story from the cliffhanger of the last episode of Season 1 of the Japanese fantasy anime, showing us just what exactly the Mugen (Infinity) Train is and the dangers our hero is faced with.
Tanjiro, joined by Inosuke Hashibira, a boy raised by boars who wears a boar's head, and Zenitsu Agatsuma, a timid boy who reveals his true power when he sleeps, boards the Infinity Train on a new mission to defeat a demon who has been tormenting people and killing the demon slayers.
Boarding the train to investigate a series of demon attacks. the protagonists gain a new ally and find a new foe on board this mysterious train. But they soon learn that the demon is far more insidious than they realized, and that dangerous forces beyond their knowledge are at work as well.
It's fun to see the ensemble of characters battling Enmu, who turns out to be unlike any other demon they've ever encountered before. The protagonists get their chance to shine as they work together to defeat this threat, with minimal help from Rengoku the Flame Hashira, one of the highest-ranked Demon Slayers.
However, Enmu's plot to trap the heroes in their own dreams seems like a wasted opportunity for some character development. The film could have plunged deeper into the psyche of the heroes, rather than just retreading what we already know about them. It does give Tanjiro some sort of a struggle to break out of his own dream, but beyond that, the other characters don't seem to have any problems forsaking their heart's desire to wake up.
That's when it becomes obvious that the movie is really about Rengoku. And for a character that we learn about mostly in this film, there's a surprising amount of emotional attachment to him. The eventual payoff is worth it, because the climax of this character's journey is a powerful one.
In terms of story, the movie doesn't actually push it that much forward, but it does dangle some plot threads that will lead into the second season of the anime. (SD-Agencies)