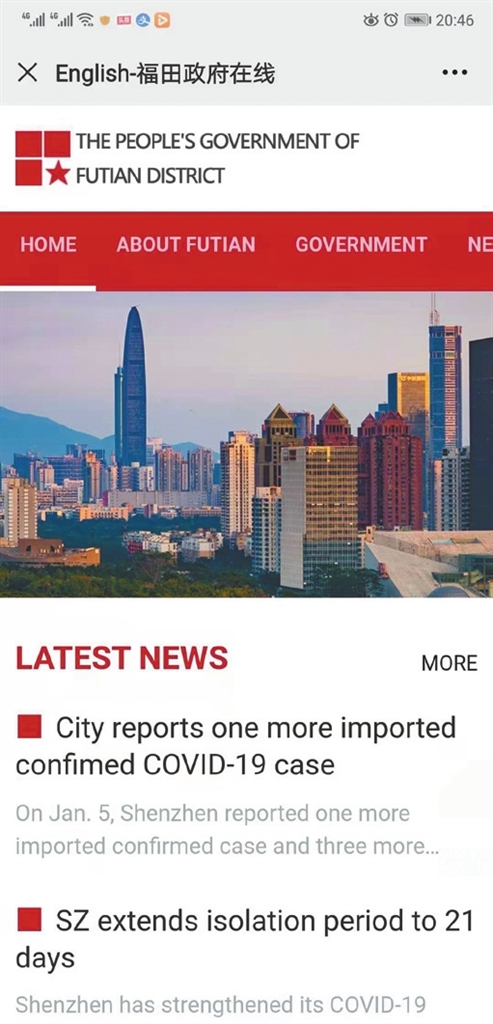 Lin Lin
linlinasa@163.com
THE new version of Futian District's English-language website (http://www.szft.gov.cn/en/) was officially launched Jan. 1.
The website is hosted by the Futian District Government and run by Shenzhen Daily. It aims to provide more comprehensive information to foreigners who are interested in learning more about Futian and provide better service guidance to expats in the district.
The new website brings a clearer homepage layout and a more efficient navigation design with a horizontal menu displaying: About Futian, Government, News, Services, Business, Explore Futian and Contact Us.
The About Futian section provides an overview of the district through articles, photos and videos.
The Government section features information on the district's government officials and departments and offers a glimpse into the foreign districts that have established a friendship relationship with Futian.
The News section includes the latest local news and event information, expat stories and in-depth reports on the district's major events.
The Services section includes information on transportation, hospitals, schools, visas, residence permits, checkpoints and hotlines in Shenzhen. Online visitors can also conveniently find service information in a sidebar menu on the homepage.
The Business section offers information on the district's industrial news, business environment, key industries, stories of successful businesses in the district, and a special column for the Shenzhen-Hong Kong Science and Technology Innovation Cooperation Zone.
The Explore Futian section allows the readers to explore the district online as it offers information on the district's museums, galleries, libraries, bookstores, parks, greenways, regular cultural events, folk culture, shopping malls, sports venues, hotels, restaurants and bars, and places of prayer and worship.