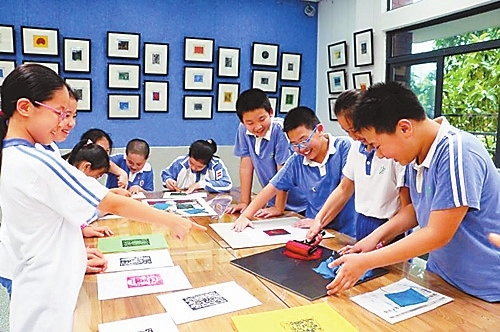 The Bookplates Museum in Shenzhen Yucai No.2 Primary School in Shekou officially opened on December 29, becoming the first of its kind on a school campus in China.
Officials from the Nanshan education authority and Shekou Yucai Education Group as well as teachers and students attended the opening ceremony.
The museum is exhibiting all kinds of bookplates created by students from the year 1990 to the present, as well as more than 10,000 pieces of the school's collections created by renowned Chinese and foreign artists. In addition, a large volume of historical documents on the development of bookplate-related activities and bookplate printing machines, printing materials and other items of great historical significance are on display.
The school is also showcasing the certificates of selection and award certificates of the students' participation in the bookplate collection at home and abroad. The name of the museum was inscribed by Liang Dong, a famous printmaker and chairman of the National Bookplates Association.
The works of bookplates created by the students cover a wide range of themes and are exquisite and delicate in styles, reflecting children's innocent minds. These works mirror the long tradition of the school's bookplate activities and the high quality of the school's bookplate creation.
It's been more than 30 years since the students started creating bookplates. To date, students' works have been displayed in more than 100 editions of major exhibitions at home and abroad, including five solo exhibitions. More than 10,000 students participated in exhibitions and more than 5,000 claimed prizes.
The bookplate collection has grown to be an influential art education branch of the school and a pride of the school.
The Shenzhen Yucai No.2 Primary School has attached great importance to art education and has made significant achievements. The school principal Wang Hong said the museum will continue the tradition of collecting and creating bookplates. (Yang Mei)