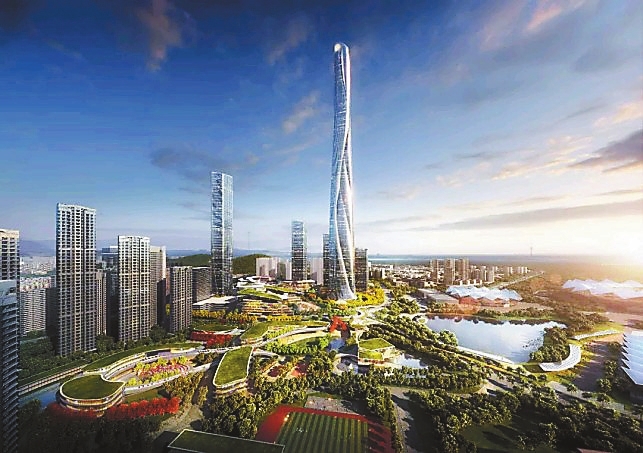 A GENERAL plan of the Dayun Cultural Arts Park was officially released by the Longgang Administration of Shenzhen Municipal Planning and Natural Resources Bureau on Tuesday.
Construction of the park, covering an area of 24,318 square meters, will start in the near future.
The park is located at the northwest side of the junction of Dayun Road and Qingchun Road. It is adjacent to the Shimao Shenzhen-Hong Kong International Center — which will be Shenzhen's tallest building upon completion — and a road next to the Shenzhen Universiade Center.
With a floor area of 29,482 square meters, the park will have a six-floor building, and space for 255 vehicles to park.
The cultural park will not only have an 8,000-square-meter center for cultural activities, but also have a 1,400-square-meter commercial compound and a 3,181-square-meter green lawn.
The Dauyun Cultural Arts Park is a part of the construction project of Dayun New Town which is planned to make up a total area of 16 square kilometers.
Dayun New Town will combine company headquarters, high-end service industry and high-level cultural and sports facilities, such as Shimao Shenzhen-Hong Kong International Center, Shenzhen Universiade Center and international university town, aiming to become a comprehensive service center that will have close connections to the rest of the world.
The park will also serve as a support facility of the Shimao Shenzhen-Hong Kong International Center, a skyscraper that started construction in March of 2018, and is expected to be 700 meters high upon completion.  (Chen Siqi)