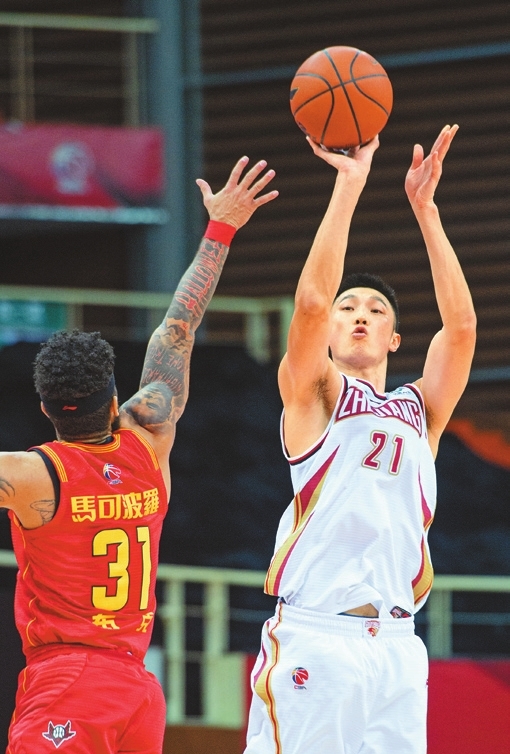 ZHEJIANG Golden Bulls smashed Shenzhen Aviators 109-95 Tuesday, ending Shenzhen's eight consecutive wins in the ongoing 2020-2021 season Chinese Basketball Association (CBA) league.
Shenzhen had poor performances in the first and last period, making their hope of winning in the regular season campaign suffer a setback.
Zhejiang had a 9-2 dash at the beginning. Although Shen Zijie helped Shenzhen narrow the gap to two in the midway of the first quarter, Zhejiang had a 20-point advantage before the second period.
Shenzhen found their pace before half break, kept chasing and had a 13-point deficit in the first half.
He Xining of Shenzhen narrowed the scoreline gap to one digit again through an easy jumper, followed by two three-pointers from his mates. Wu Qian responded with a 3-pointer in the critical moment.
Although Nick Rakocevic had a technical foul, the American insider enlarged Zhejiang's advantage to two digit points again through two free throws.
Rakocevic exited the game in the third quarter by an unsportsmanlike foul, making Shenzhen's hope of turning the game around a possibility.
Zhejiang sent an all-Chinese squad on the court in the fourth quarter, but Shenzhen had no chance of having a scoring sport spurt. Zhu Xuhang helped Zhejiang enlarge their advantages to 20 with 3:30 left, taking the game beyond their rival's reach.
Zhu Xuhang was acknowledged as the most valuable player of the clash after pocketing 21 points, 12 rebounds and two assists. Chen Shuaipeng and Sylven Landesberg scored 18 each. On Shenzhen's side, Askia Booker led both sides with 34 points.
Shenzhen will meet Liaoning today.
(Xinhua)