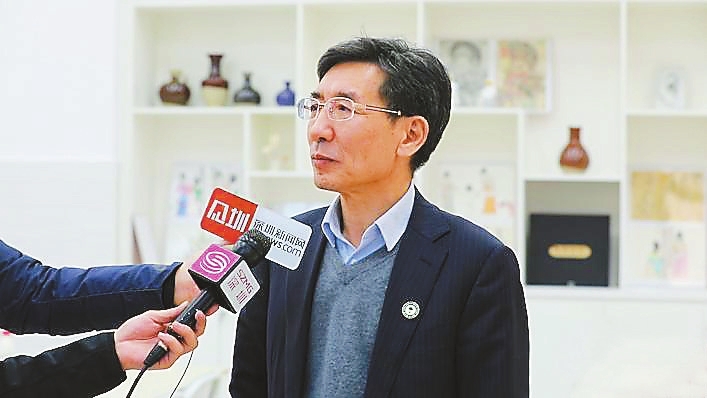 XUE QIKUN, president of Southern University of Science and Technology (SUSTech) and academician of the Chinese Academy of Sciences, has encouraged students to be strong and happy in pursuing their dreams, sznews.com reported Wednesday.
Xue delivered a report to the teachers and students of the High School Affiliated to SUSTech on Tuesday, which marked his first report made at the high school after he became president of SUSTech.
Starting from Ohm's law, Xue introduced a series of experiments from the Hall effect to the quantum Hall effect in simple but profound terms, and told the students that the reason why he had discovered the quantum anomalous Hall effect is inseparable from a powerful motherland.
From the failure of two postgraduate entrance examinations, the hard time of seven years of postgraduate study, the bitterness and joy of eight years of studying abroad, and eventually to the joy of nearly 20 years of entrepreneurship, Xue encouraged the students through his own experience that "One should always be strong, be a strong son, a strong daughter, a strong student and a strong person in society."
Xue hopes that students can develop the ability to analyze and solve problems, and cultivate the spirit of striving for perfection.
He made a vivid explanation and demonstration based on his own English learning experience and his mastery in skillfully using experimental instruments.
It is precisely based on this scientific spirit of striving for perfection, coupled with four years of perseverance in tackling key problems, that he is able to lead his team to discover the quantum anomalous Hall effect, according to Xue.
Xue hopes students will take a broad view of the world, cultivate the scientific spirit of innovation and seek truth from facts, keep improving and pursue perfection, have an optimistic attitude toward life, work in unity and help one another, and to boldly undertake the historical mission entrusted by the new era.
Xue also expresses full confidence in Shenzhen's higher education. The municipal Party committee, the city government and the people of the whole city have great support for higher education, said Xue, adding that the city needs to further strengthen talent training and element innovation in the future.(Zhang Yu)