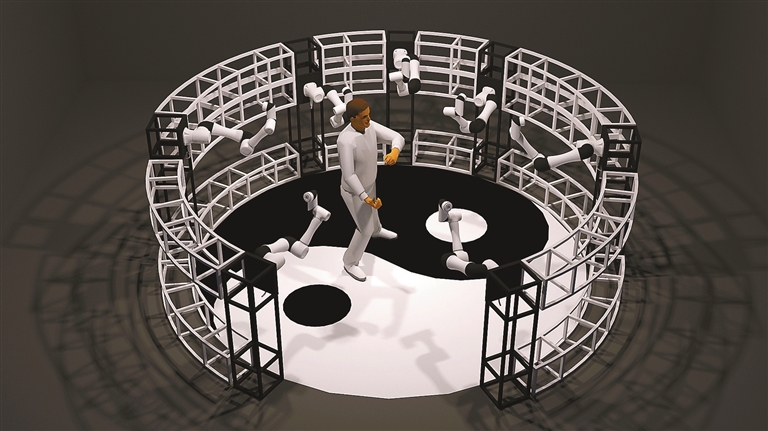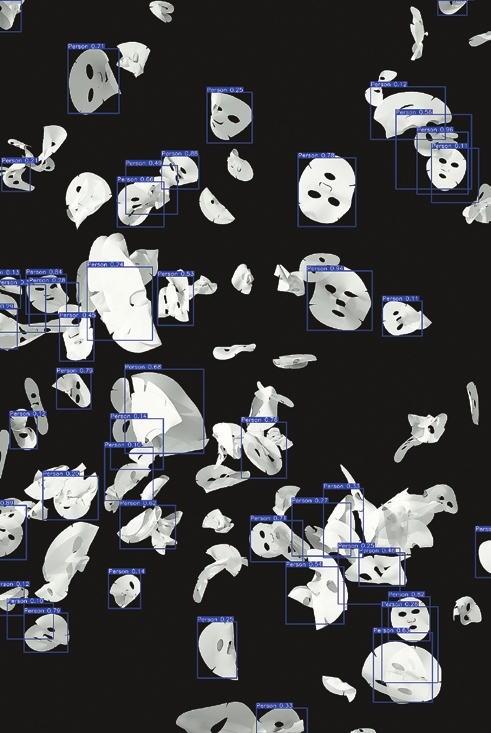 "The Final Prophet," an exhibition of the Shenzhen Bay STArts Festival, features 28 artworks created by 33 artists and groups. With "Beyond Distance" as the theme, the festival is co-curated by Qiu Zhijie, dean of the School of Experimental Art at the Central Academy of Fine Arts (CAFA) in Beijing, and CAFA researcher Iris Long.
Daria Jenolek's short film "Terrain" explores how we perceive reality in our surroundings. As camera tracking and machine vision capacity evolve, the film questions how we can use the terrain between the digital and physical worlds for new interactions between humans, machines and places around us to create new ways of communicating.
In the work "Fingertip Poetry" by Li Bo and Wang Yi from CAFA, the duo uses a Braille and flexible skin technology to present a blind man's inner imagination after touching poem texts with his fingers, hoping to present the technology environment with a poetic discourse.
Michael Frei and Mario von Rickenbach's "Kids" can be seen as sharp ironies of our contemporary realities, raising urgent issues with light-weighted interactive animation: "How do we define ourselves when we are all equal? Who is steering the crowd? What if it is heading in the wrong direction? Where does the individual end and the group begin? What is done by choice, and what is done under duress?"
In another exhibit, Akihiko Taniguchi creates countless identical versions of himself, and delivers them to the liminal space in a game engine. Echoing this subject of ubiquitous data and identities, "T3511" by Heather Dewey-Hagborg follows a biohacker who becomes increasingly obsessed with an anonymous donor whose saliva she purchases online. This post-genomic love story is just one example from the emerging market in human fluids, cells, DNA, and biological data fueling some of the newest biotech companies today. When all humans are reduced to data and simulation and when AI is infiltrated in a planetary scale, how will we perceive the relationships between us and the world?
Jakob Kudsk Steensen's work illustrates a digital winter forest with virtual reality and video installations. Wearing a self-made costume made of mylar, the artist filmed himself exploring derelict infrastructures along a river leading through the Green Mountain National Forest. To create the work, he spent one month crawling through tunnels in neglected water plants, abandoned factories and a rusty, dilapidated school bus.
Dates: Until Jan. 26
Hours: 10 a.m.-10 p.m., closed Mondays
Tickets: Free
Venue: 2/F, The MixC Shenzhen Bay, Nanshan District (南山区深圳湾万象城二楼)
Metro: Line 2 or 11 to Houhai Station (后海站), Exit G
(SD News)