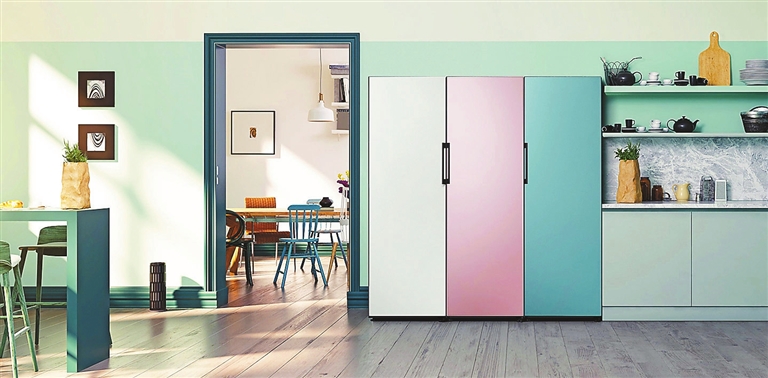 A term from tailoring, "bespoke" means something that's made for your specific needs and that's the pitch with Samsung's Bespoke line of refrigerators, which made their debut at CES 2021.
To fit the bill, the Bespoke refrigerators offer fully modular designs that you can customize to your kitchen's content. Each of the fridge's doors comes in your choice of finish, material and color, including unusual options like pink and sky blue. That lets you mix and match to make the fridge that best fits your personal aesthetic.
All of that borrows a page from the international playbook, as refrigerators in Europe and Asia have long offered options for modular design and lots of color choices. In fact, Samsung first introduced the Bespoke lineup for the European market in 2019, albeit with an even greater number of size and color choices than consumers will see this year. With the line's global expansion, Samsung is making a cautious bet that consumers are willing to pay a premium for unique, eye-catching fridge designs, too.
As for features, each of the new Bespoke models borrows Samsung's Flex design. The ice maker can switch from standard ice cubes to nugget-style "ice bites" for folks who enjoy drinks with chewable ice.
The 22.5-inch Android built-in touchscreen is getting a new version of its software, Family Hub 6.0, which will include refined smart home controls and the addition of a SmartThings Cooking app that can help you build out a weekly menu.(SD-Agencies)