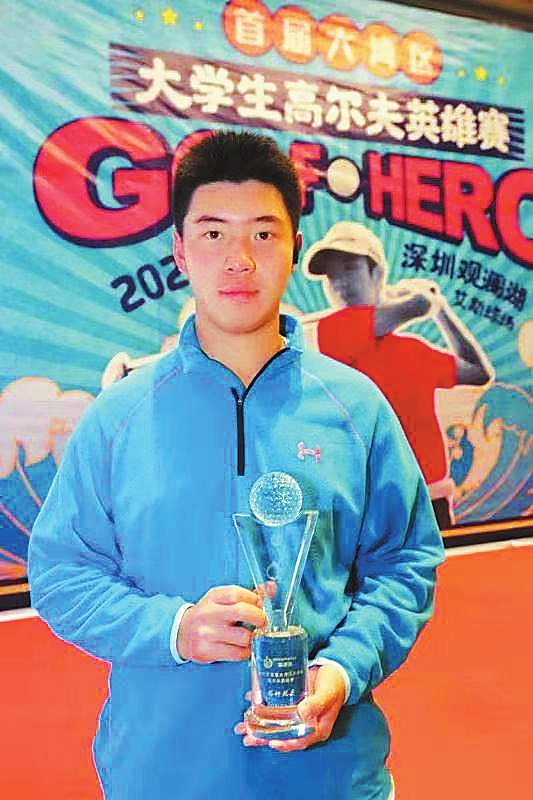 Two golf players from Shenzhen University, namely Jiang Haoyu and Huang Jiapei, pocketed first and second places respectively on the gross score leader board, at a golf contest attended by university students from across the Guangdong-Hong Kong-Macao Greater Bay Area held at the Els Course of Mission Hills Resort in Longhua District over the weekend.
Both finishing the contest with a total of 151 strokes, Jiang outperformed Huang in the second round and won the gross score champion.
Ning Yuan and Ning Wang from Macao Special Administrative Region won the net score champion and the runner-up place of the contest, respectively.
The golf contest was the first of its kind held at the Greater Bay Area and participants included around 40 players from Shenzhen University, Sun Yat-sen University, Jinan University, Guangzhou Sports University, Guangdong University of Foreign Studies, Jilin University Zhuhai School, and others. It also opened its door to contestants who are GBA residents but not studying at schools in the area.
A contestant surnamed Lin from Macao, who is currently studying in the United States and has been a golfing enthusiast since childhood, signed up for the contest and showed great competitiveness in the matches. "It was my first time to compete with so many students from the Greater Bay Area. My rivals were competitive in the games and the competition was really fierce," said Lin.
According to Zhu Dingyao, vice president of Mission Hill Group, the contest provided a platform for the young golf players in the Greater Bay Area to showcase their golfing skills and communicate with their peers.
He also stated that golfing can help the students enrich themselves and learn to respect the rules, and hopes to see more students playing golf in the future.
The contest will be held every year at the Mission Hills Resort, in order to further promote the popularity of golfing among youngsters in the Greater Bay Area.
(Wang Haolan)