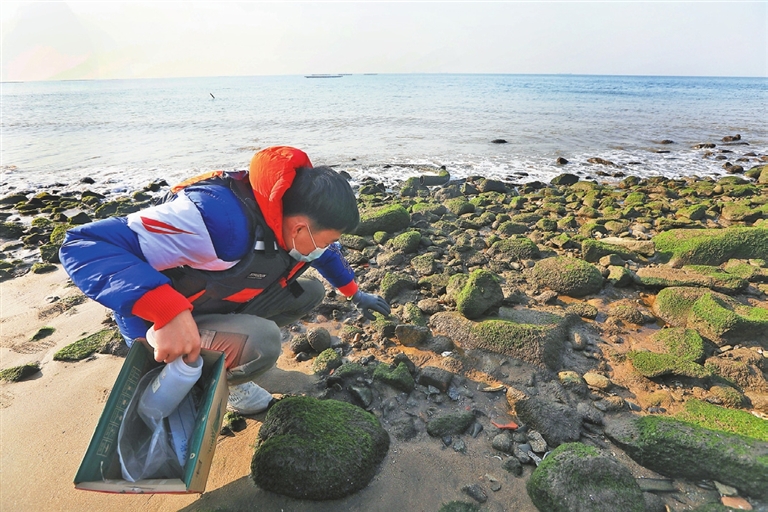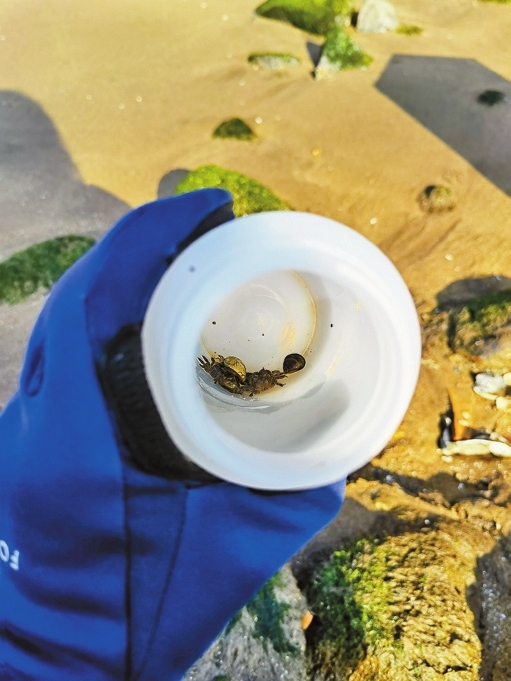 AT 8 a.m. Monday, four staff members from the city's marine monitoring and forecasting center started their journey to Neilingding Island from a Bao'an wharf. The journey is to survey the biodiversity in the sea areas in western Shenzhen.
The sea was sparkling in the sunlight and the skyline was visible in the mist. Arriving at an uninhabited island on the west side of Neilingding Island after a 30-minute yacht trip, Yang Weisi and Wang Yelin, two leaders of the survey team, soon took out their tools to search for objects in the sands and reefs.
"Here's a line of footprints of a crab, where the footprints end should be its cave," Yang told a reporter with Shenzhen Evening News, who was invited to join the trip. Yang then digged 1 meter down the sands to find the crab, however, it escaped into another place only after a quick glimpse.
Soon after came Wang's voice: "Come here, so many crabs here!" Wang lifted a piece of reef leading to the sand crabs' escape.
This is the third time for Yang to take a lead in investigating the biodiversity in the intertidal zones on Neilingding Island, with the purpose to count the number and species that live in different seasons in the zone. According to records, sandbeaches are commonly seen in the intertidal zone on Neilingding Island, with various species of marine creatures, including sand crabs, conches and shellfish.
At about 10 a.m., they moved to the next investigation location — Xiaochan Island. The intertidal zones in Xiaochan Island are mainly made up of reefs, where there are a large number of wild oysters.
"This is also the third time for us to have an investigation on Xiaochan Island. According to the former statistics data, the creatures that are found living in the intertidal zones in the sea areas in western Shenzhen are primarily crabs and conches."
Finishing the survey, the investigators took the yacht back. "The investigation on the biodiversity of marine creatures is increasingly important as Shenzhen has sped up to become a global marine center. Only if we understand the marine resources thoroughly, can we protect the resources precisely," Yang said.
(Chen Siqi)