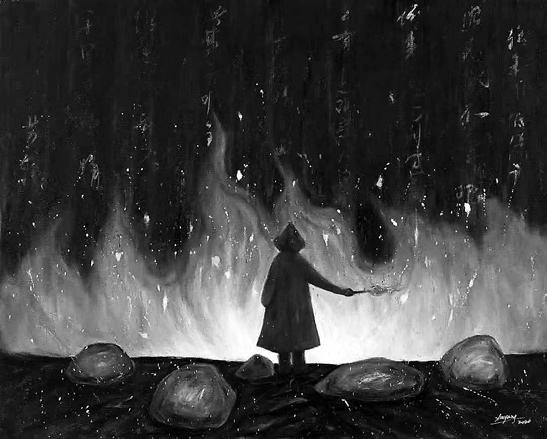 Shenzhen artist Xue Yang, who now works at the Guan Shanyue Art Museum, is exhibiting her oil paintings and sculptures at "The Second Flame" at the Serpentine Gallery in Shekou. Entry is free.
Most of Xue's paintings depict a child in pursuit of light against a backdrop of a dark forest or wilderness or an ice field to show solitude. Her impressive use of light and shadow often creates a sense of loneliness or foreboding. She said that one has to face everything by oneself in the world and quoted a famous line from Leonard Cohen's song: "There's a crack, a crack in everything. That's how the light gets in."
"Creation is not only part of my life but also a haven for me for keeping myself complete and releasing myself. Virginia Woolf once said, 'A woman must have money and a room of her own if she is to write fiction.' I think she suggested that a woman needs a space to relieve her pain and loneliness. Now creation is my 'room' and I have presented all of my emotions and thoughts through my works," said Xue.
Dates: Until March 9
Hours: 10 a.m.-6 p.m., closed Mondays
Venue: Serpentine Gallery, 109, Block 2, Nanhai E-Cool, Nanshan District (南山区南海意库2栋109蛇口画廊)
Metro: Line 2 to Sea World Station (海上世界站), Exit A
(SD News)