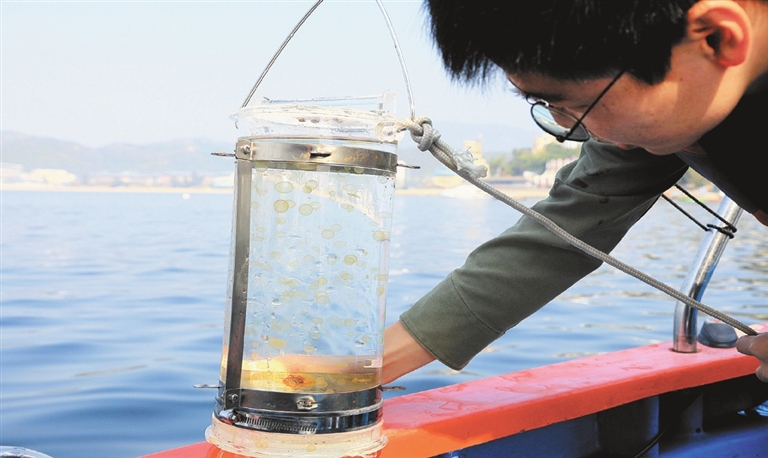 MASSIVE red tides have shown up off the eastern coast of Shenzhen due to a large number of marine micro-organisms appearing in Dapeng Bay and Daya Bay recently.
A research group, carrying both big and small sample bottles, from the city's marine monitoring and forecasting center and Jinan University, took a boat to the eastern coast Tuesday morning to collect samples of Phaeocystis, sea sparkle (Noctiluca scintillans) and Akashiwo sanguinea, all marine micro-organisms that make up the red tides.
The ride tides occur when colonies of simple plants that live in the sea and freshwater grow out of control while producing toxic or harmful effects on people, fish, shellfish, marine mammals and birds.
On Jan. 18, an undersea camera recorded Phaeocystis showing up in Da'ao Bay area. In only five days, the camera was fully covered by the Phaeocystis, indicating there would be an outbreak of red tide.
In response to the unusual situation, staff from the city's marine monitoring and forecasting center soon arrived at the bay area to conduct research, collecting samples and observing the water quality. They found that the colloidal marine life with a 2-10 millimeter sphere body were floating in the water, covering a sea area of 0.2 square kilometers in the Da'ao Bay-Nan'ao area in Dapeng Bay. No dead fish were spotted nearby.
Seeing these signs, researchers confirm that the red tide has appeared in Dapeng Bay, as well as in the Daya Bay area.
Caused by the growing number of sea sparkle and Akashiwo sanguinea, the red tide reached its peak Jan. 23, covering 6 square kilometers of the Yangmeikeng-Luzui sea area in Daya Bay.
"The last time we saw such a massive Phaeocystis in Shenzhen was 15 years ago," Zhai Xiaohui, a staffer of the monitoring center, said.
Phaeocystis is a species of phytoplankton that will cause red tide. Its body looks like a ball, but once the ball breaks, the "dead body" will turn into flocs which will lead to ocean pollution as the flocs float on the surface.
"The Phaeocystis has a toxin that is hemolytic so it is harmful to the animals in the water. Eating fish or shellfish that are polluted by the toxin could harm people's physical health," Zhai said.
The research group is providing follow-up monitoring and will try to use new technology to increase the accuracy of detection, so as to guarantee the biological environment and water safety for the city's coasts. (Chen Siqi)