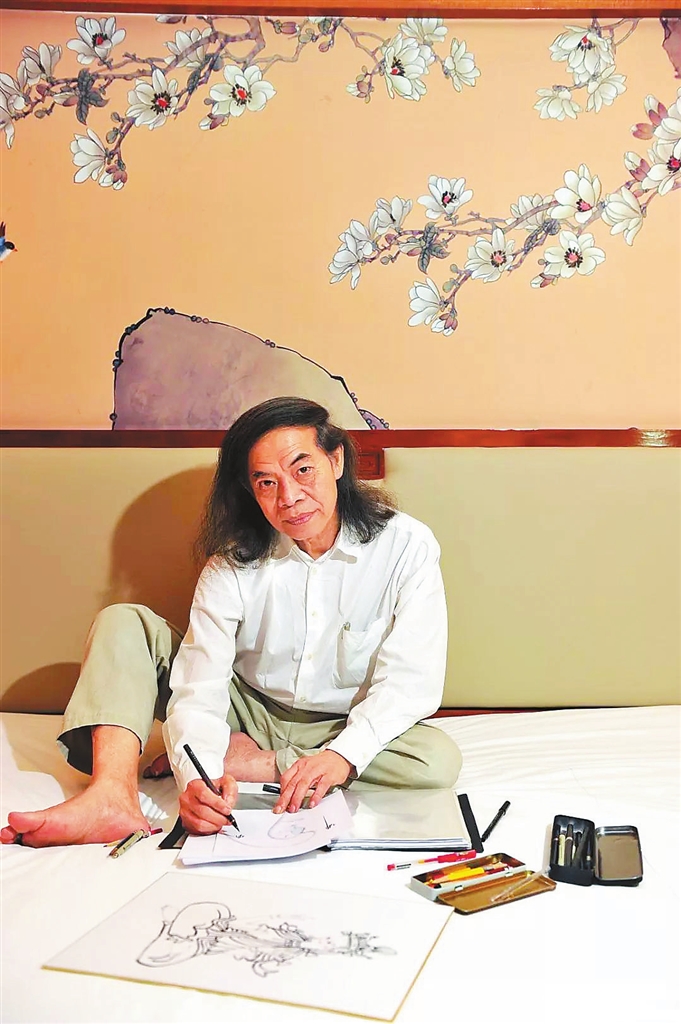 FAMOUS author and cartoonist Tsai Chih-chung, better known as C. C. Tsai in the West, may already be 73 this year, but the septuagenarian has no plans to slow down or adopt a more "normal" life.
The artist keeps a unique schedule. He goes to bed at 5 p.m. and wakes at 1 a.m. He then works till around 2 p.m.
"When you are truly focused, everything is silent, as if you are the only thing in existence in the world. Time seems to slow down. This is why I enjoy getting out of bed in the middle of the night," says Tsai, who was in Shanghai last month for the launch of the English edition of his works on ancient Chinese philosophy.
"I can create a book in no more than five days," he says. "We cartoonists don't work like novelists who have to write one word after another. We create in our mind a complete image in the blink of an eye."
Despite his age, Tsai claims that he still works hours on end, and all that sitting hardly gets to him. In fact, his current goal is to complete a whopping 500 new books in five years.
"I just completed a new series on Buddhism and made two feature animation films, and I plan to start a new series about Eastern wisdom," he says.
Born in 1948 in Chang Hwa County in Taiwan, Tsai has been creating comic books on ancient Chinese classics that have won popularity around the world since 1984. His works have been translated into 26 different languages, with more than 50 million copies sold worldwide.
"I created a new genre in China,"Tsai tells China Daily. "Nobody tried to interpret Chinese classics the way I did — by using simple storytelling and cartoon images."
Last week, the 18th China Animation and Comic Golden Dragon Award announced the launch of a new award named after Tsai. According to the organizing committee of the event, the new award is a recognition of "works and artists with outstanding achievements involving the inheritance of traditional Chinese culture."
Princeton University Press was the first to publish his books in English, with the first book, "Zhuangzi: The Way of Nature," which was translated by Brian Bruya, released in 1992.
In 2016, Princeton regained the copyright of Tsai's works from Doubleday Publishing Company and relaunched the series "The Illustrated Library of Chinese Classics" in 2018.
Among the first to be released were "The Analects," with the foreword by Michael Puett of Harvard University; "Sunzi: The Art of War," with the foreword by Lawrence Freedman; and "The Way of Nature," with a new introduction by Edward Slingerland. This summer, a new book titled "The Ways of Zen" will be released.
"His line is elegant; his characters are sharply drawn; his humor is sly and appropriate; and his subject is profound. This is cartooning of the highest order," writes Larry Gonick, author of "The Cartoon History of the Universe."
Gonick also describes Tsai's works as "awe-inspiring."
"C. C. Tsai's introductions to the world of Chinese thought and spirituality are masterpieces. His drawings are charming, clever, and engaging; his texts are clear and faithful to the spirit of the originals; and Brian Bruya's translations are fluid and accurate," writes Stephen C. Angel of Wesleyan University, referring to "The Illustrated Library of Chinese Classics."
The translator of the series, Bruya is a professor of philosophy at Eastern Michigan University and has known Tsai personally for 30 years. Tsai says he was impressed with Bruya's knowledge and understanding of classical Chinese literature, and Bruya praised Tsai's "brilliant combination of wit and wisdom," citing this as the reason he fell in love with his books.
In his writing, Tsai "translated the classical language into contemporary Chinese so that the average reader could understand it," Bruya writes in his introduction to "Zhuangzi."
"In 'Zhuangzi,' stories are used to illustrate particular points, and are embedded in larger contexts. C. C.pulls the story out, illustrates it in a series of panels, and then sums up the moral of the story in the final balloon."
Tsai is well-known for drawing from the original context and traditional commentaries to create summaries that make the text relevant to contemporary readers.
"As with his other adaptations, the advantage that C. C.'s versions of the classics have over regular, text-only editions is the visual dimension that brings the reader directly into the world of the ancients," Bruya writes.
(China Daily)