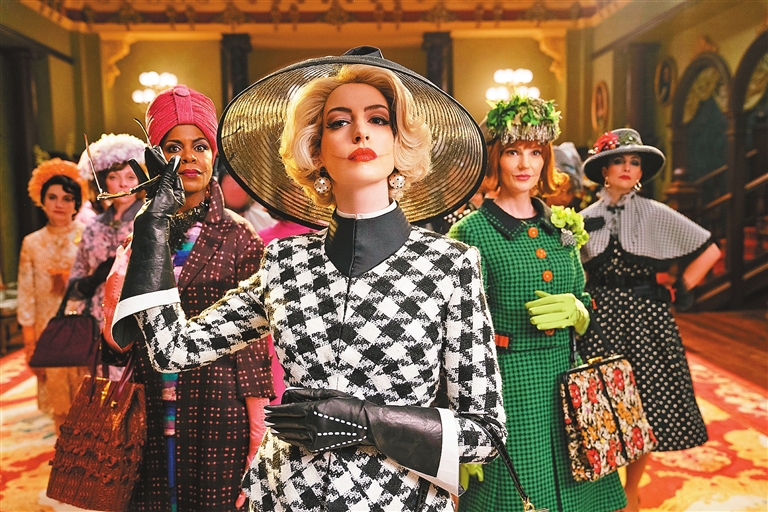 Roald Dahl's book "The Witches" is a primal fairy tale, part Grimm and part flamboyant kiddie opera, about an orphan vacationing with his grandmother at a majestic hotel, where he has a run-in with a coven of witches. They're attending a meeting presided over by the Grand High Witch, a preening harpy who possesses a potion that can turn children into mice. Her signature trait, however, is the deluxe hatred that pours out of her like poison.
Robert Zemeckis' movie version remains true to the novel and what he brings to it is his fusion of relatability and FX gizmo play. It's nothing more than a Baroque cartoon horror film, but the best parts have a crackpot malevolence that's hard to resist.
Anne Hathaway, as the Grand High Witch, has been outfitted with a set of severe nightmare trappings that are sure to frighten little children: a bald head concealed under a series of wigs that cause her to have a terrible scalp rash; arms that stretch out into groping mangled claws; a long middle toe on an otherwise truncated foot; and, most strikingly, a mouth extended back by scars, which gives her an enlarged smile.
The triumph of Hathaway's performance is that she never allows the visual effects to dominate her; she acts from inside them, wearing them like makeup. Speaking in an accent, she is high-camp funny but also genuinely threatening. Hathaway acts this flamboyant she-demon with the conviction that only a sensational actor can bring to a throwaway movie.
The rest of "The Witches" is serviceable in a standard hellzapoppin' way. For a while, it feeds on the audacity of transplanting the story to the American South, where our hero (Jahzir Bruno), an 8-year-old child in Demopolis, Alabama, in 1968, loses his parents in a car accident and moves in with his warm, wise, whiskey-swilling Grandma (Octavia Spencer).
There's one eye-catching set: the Grand Imperial Ballroom. It's where the witches let their hair down under the guise of holding a convention and it's where our hero gets vaporized by a vial of purple potion and turned into a mouse. So does Bruno, a face-stuffing British kid, and Daisy, the hero's pet mouse. They are CGI rodents scurrying around the ornate ledges and kitchen shelves of the hotel like something out of "Mousehunt" or "Ratatouille." These scenes are fun in a logistically energized way.
You could say that "The Witches" doesn't have much in the way of emotional pull, and that there are too few layers to its battle against evil. Yet Hathaway's performance provides the film with a sick-joke center of gravity, and Zemeckis, sticking to Dahl's elemental storyline, stages it all with a prankish flair that leaves you buzzed.
(SD-Agencies)