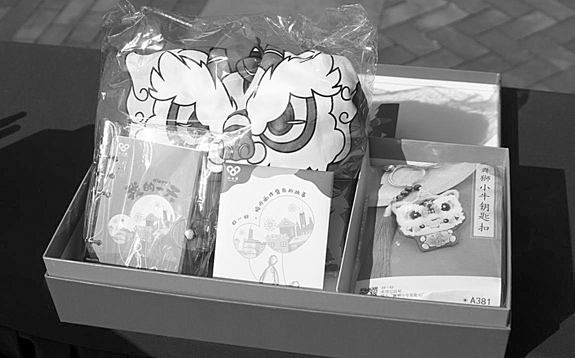 Zhang Yu
JeniZhang13@163.com
A TOTAL of 100 children who have been hospitalized in Shenzhen Children's Hospital with hematological malignancies received Chinese New Year gift packages from local organizations Friday.
Each gift package includes a new garment, a hand-made lucky bag with blessings inside, a notebook and a set of postcards.
"We hope that the children can change into new clothes to welcome the Chinese New Year," said a project director of Shenzhen Women and Children's Development Foundation (SZWCDF), adding that the lucky bags carry good wishes to the children and the notebooks allow children to record their daily lives and have a vision for the future.
In addition, a slogan that reads "We believe that every child deserves a better future" is printed on the new clothes, which is the vision and mission of the foundation to help Shenzhen become a child-friendly city.
Hosted by SZWCDF, the donation also gained support from the Shenzhen Alumni Association of Cheung Kong Graduate School of Business (CKGSB), South China training station of CKGSB, Class 5 of the 32nd EMBA session of CKGSB, and Shenzhen Children's Hospital.
The donation was part of a public welfare project called "Fulfill the Little Wish and Help Dreams Soar" dedicated to underprivileged children.
The project, which was initiated in 2019, aims to pay attention to children who are in temporary difficulties due to diseases, financial problems, family issues and other reasons, and to encourage enterprises, social organizations and the public to lend a helping hand.
So far, the project has helped realize the little wishes of hundreds of children with leukemia, cancer, thalassemia, autism as well as those in temporary difficulties due to migration, according to SZWCDF.
The foundation said another batch of gift packages has been prepared and will soon be delivered to children with special needs.