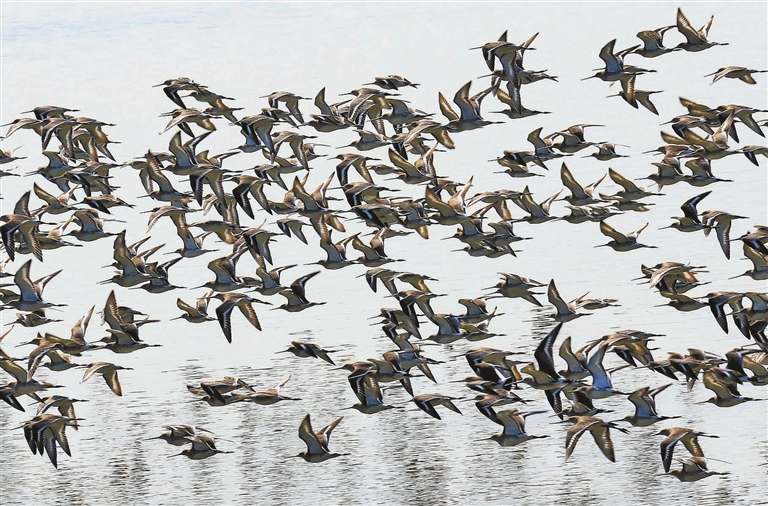 A VIDEO capturing a huge flock of birds at Shenzhen Bay Park went viral recently online. Although the video lasts for only one minute, many netizens said that they were amazed by the view, Shenzhen Evening News reported.
Shenzhen Bay, an important habitat for migratory birds to stay during the winter, sees a great number of migratory birds yearly from September to the following April, including cormorants, northern shovelers and pied avocets.
The park encourages visitors to come and watch the birds from November to March every year. From 9 a.m. to 12 p.m. and from 2 p.m. to 5 p.m. are the best time periods to watch birds, according to the park.
Visiting Shenzhen Bay Park to watch migratory birds has become one of the popular activities for local people to do in winter.
A man surnamed Luo told a reporter with the Daily that the real view is even more magnificent than what the video showed.
"Shenzhen's environment has become more and more beautiful," said Luo.
In addition to these lovely migratory birds, volunteers wearing blue vests can also be found at Shenzhen Bay Park, helping to spread bird-related information to visitors.
Shenzhen Blue Ocean Conservation Association (BOCA) launched an ongoing charity event Jan. 25 to call on more volunteers to promote proper bird-watching at the park.
So far, over 1,000 volunteers have served at the park. Many of the volunteers are students from schools in Shenzhen, including Guiyuan Middle School, Shenzhen Experimental School and Shenzhen Bao'an Binhai Primary School.
Many parents have also joined their children to safeguard birds staying in Shenzhen Bay, said the report.
A visitor surnamed Zhang who is from Qingdao said that he was surprised by Shenzhen's efforts to protect birds, after talking with a volunteer at the park.
Zhang said that she will urge his friends in Qingdao to protect nature and wild animals.
It was reported that volunteers have successfully dissuaded 68 visitors from feeding the birds since the 2019 Spring Festival.
Few people were spotted feeding wild birds this year in comparison to previous years, suggesting that more and more people have gained an awareness of proper bird-watching, according to Ma Haipeng, secretary general of the BOCA. 
(Wang Jingli)