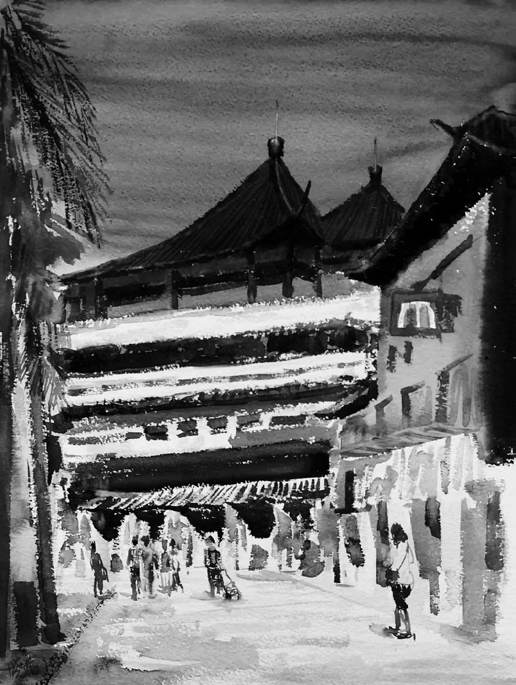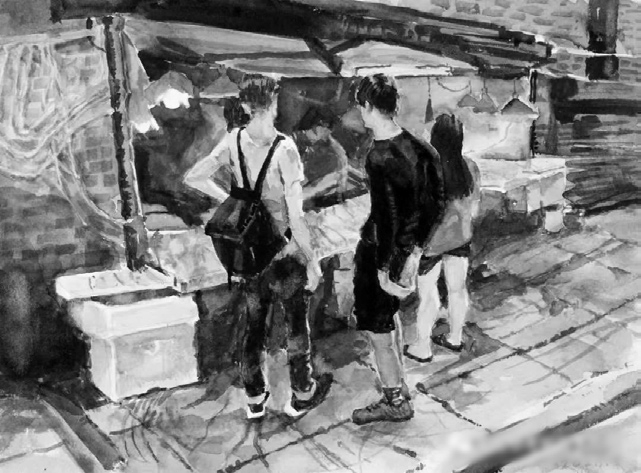 Paintings of Dongmen which has a history of more than 400 years are on display at the Siyue Library in Luohu District. The painters are all local artists: Zhang Yuelun, Wen Zhenfei, Fang Xiaolong, Yang Daming and Yan Qing. Entry is free.
Initially, a market formed in the mid-Ming Dynasty (1368-1644) by Hubei villagers from Xiangxi, Huangbeiling and Shuibei villages, Dongmen used to be called "Shenzhenxu" (literally meaning "Shenzhen market"). For the past 100 years, Dongmen, which is near the railway station linking Hong Kong and the mainland, has long been leading Shenzhen's consumption trends. It is one of Shenzhen's most popular places for shopping due to its abundant cheap products and food.
In 1999, the old Dongmen was transformed into a modern pedestrian street. As for shopping, the small stalls and big department stores are overflowing with clothes, shoes, jewelry, bags and cosmetics. In terms of food and drinks, there are various Chinese street foods, as well as McDonald's and Starbucks. For recreation, there are a couple of video game arcades, karaoke clubs and beauty salons.
Surrounded by the hustle and bustle of Dongmen, the 300-year-old Siyue Library offers visitors a corner where they can sit back, drink tea, read books and learn calligraphy.
The Qing Dynasty-style house, rebuilt using old bricks, opens a small window on the city's past. The library used to be an ancestral hall of the Zhang family in Shuibei Village. Their descendants built it to house a private school in the first part of the Qing Dynasty (1644-1911) in memory of their 13th generation ancestor Zhang Siyue, who lived in the Ming Dynasty. The brick-and-wood building, occupying an area of 210 square meters, was later used to accommodate workers from Hong Kong during a big strike in 1925. The Shenzhen Municipal Government declared it a city-level protected historical site in July 1988. Torn down during an upgrade of Dongmen in 1996, the library was rebuilt in 1999.
Dates: Until Feb. 26
Venue: Siyue Library, Dongmen, Luohu District (罗湖区东门思月书院)
Metro: Lines 1 or 3 to Laojie Station (老街站), Exit F(SD News)