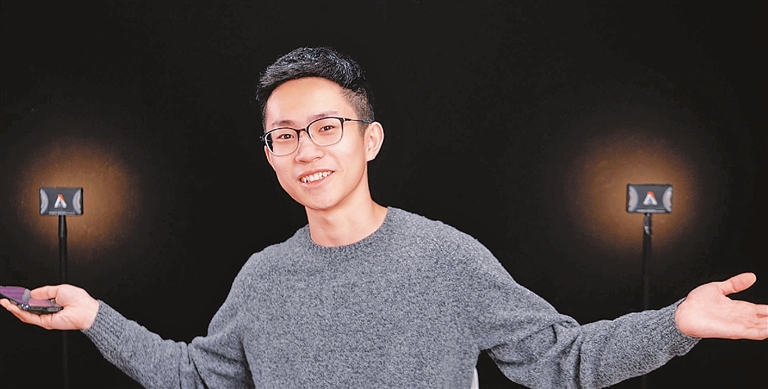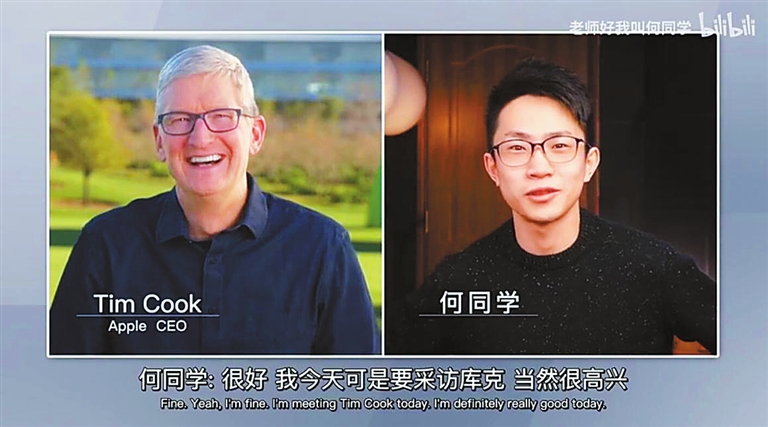 Twenty-two-year-old He Shijie, better known as blogger He Tongxue, is already a tech influencer in China. Now an online interview with Apple CEO Tim Cook has spread his reputation to a wider range.
Cook appeared on the Chinese engineering student's Bilibili video released last Thursday, generating almost 6 million views on that video-streaming platform, and over 220 million mentions on the more popular microblogging platform Weibo.
In the video, the conversation ranged from the iPhone app that Cook uses the most (besides email, the Notes app), to Cook's high-level thoughts about Apple at the moment (2020 was Apple's "top year of innovation ever").
"There's no one formula for innovation, but what we do is we have a culture of creativity and a culture of collaboration. And these two things together, when they intersect, create enormous innovation," Cook said.
A senior student at Beijing University of Posts and Telecommunications, He started uploading self-made tech videos on streaming platform Bilibili in 2017 and now has almost 7 million followers on the site. He made his name in 2019 with a video showing how fast 5G is in real life — which is still his most popular video with 25 million views on Bilibili — and has since been one of the top tech influencers in China.
The young Chinese blogger is clearly an Apple fan and didn't try to hide how much he loves the tech giant's products, but he still was able to garner some interesting insights from the CEO, including some details about the influence that Chinese consumers have on the company's products.
In addition to making deferential comments to a hugely important consumer base for Apple, Cook also discussed a classic question that young people often wonder about: how to find that dream job. In answering this, Cook cited Steve Jobs by saying, "You'll know it when you find it. And if you haven't found it yet, you should keep looking."
Cook's official Weibo account also followed up with another message for the youth, "There's no challenge young people can't solve and no limit to the creativity a fresh perspective can bring. It was a pleasure talking to He about the opportunities we all have to learn, grow and help others in the Year of the Ox."
(SD-Agencies)