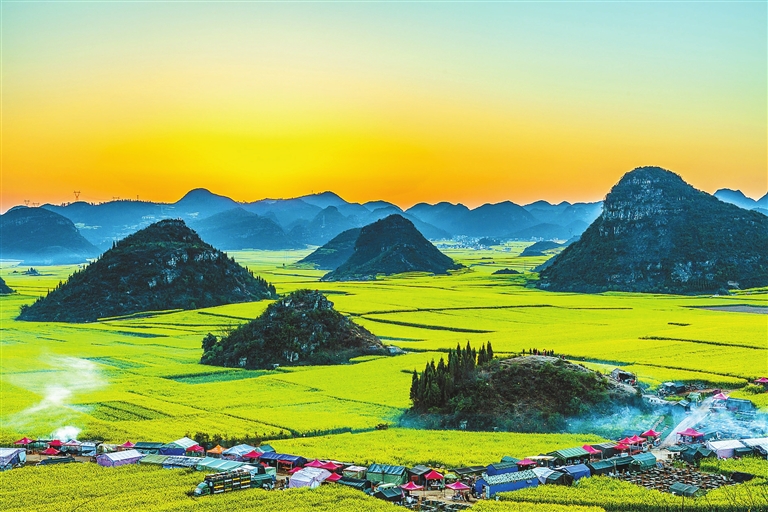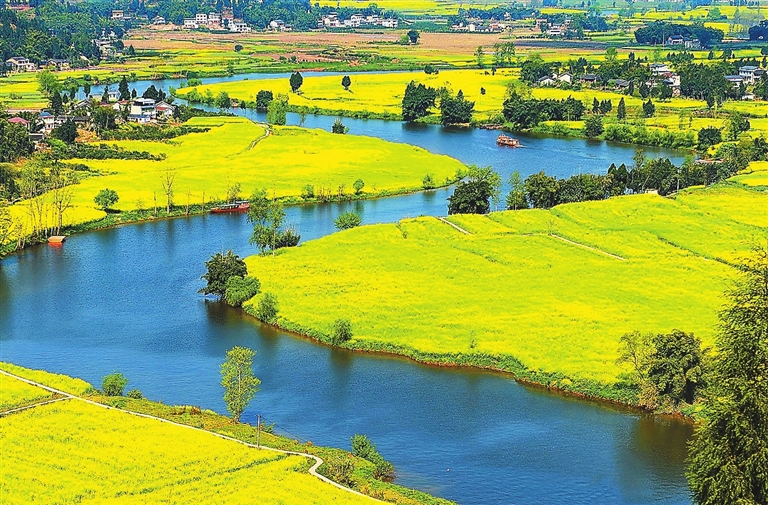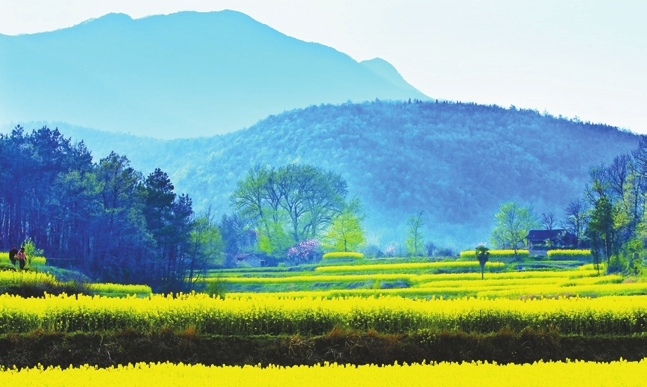 AS the sunlight becomes increasingly bright, spring comes rolling around. Spring is the season to appreciate golden fields of flowers, some stretching as far as the eyes can see.
Rapeseed flower scenery has been getting increasingly popular for tourism across the country. In this article, we've selected seven places across China for you to go rapeseed flower sightseeing. Get ready to indulge yourself in these golden fields!
Luoping, Yunnan
Maybe in most parts of China, while people are still trembling in the cold, in the countryside of Luoping County in Southwest China's Yunnan Province, fields of soft yellow announce the blossoming of rapeseed flowers.
The blossom period here starts quite early, normally lasting from the Spring Festival till early April. The karst landform is one of the highlights of flower appreciation here, with karst cones rising up among the golden seas of rapeseed flowers.
To reach Luoping, take a train or bus from Kunming. After arriving in Luoping, you can either take a city bus or a special tourist bus. It's enjoyable to continue the trip and randomly stop somewhere when you find something interesting. You will also find it intriguing to be walking in the blossoms with local Buyi people.
Tongnan, Chongqing
Located in the northwest of Chong-qing, Tongnan District is home to the famous Taoist sage Chen Tuan, as well as cultural and historical sites such as Shuangjiang Ancient Town. As the northwestern-most district of Chongqing that borders Sichuan Province's Suining City, Tongnan enjoys a mild year-round climate and since ancient times has been hailed as China's "home of rapeseed."
A unique way to enjoy the flowers in Tongnan is to take a boat ride. Every year around March, Tongnan celebrates its annual rapeseed flower festival. The Qiongjiang River runs through the sea of flowers and you can take a boat ride through the rapeseed fields in Chongkan Town. This year, the 14th Chen Tuan's Hometown Rapeseed Flower Festival kicked off in Tongnan on Feb. 26.
Other than traditional sightseeing means by boats, mini trains, and helicopters, the scenic area has also added paragliding options for visitors to better appreciate the rapeseed flower fields from above.
According to authorities from the district's culture and tourism commission, the colorful rapeseed flowers will continue to be the highlight of this year's event, with the plantation area already stretching to some 333,000 square meters.
Wuyuan, Jiangxi
Wuyuan, a county in the northeastern part of Jiangxi Province, gets immersed in a sea of flowers every year during March. Tucked between scenic Huangshan Mountain and Sanqing Mountain, Wuyuan has been dubbed "the most beautiful countryside in China."
Considered to have some of China's most beautiful countryside, Wuyuan has vistas that look like scenes from ink-wash paintings, complete with ancient architecture. Also a historic site, it's home to some of the best-preserved ancient architecture in China. The oldest ones can be traced back to the Tang Dynasty (618-907) in 740. These ancient Hui-style architectures with their typical white walls and black tiles form a beautiful natural landscape in the sea of rapeseed flowers.
The places that have the best displays of rapeseed flowers are terraced fields in Jiangling, the ancient road along Qingyuan, Lingjiao and Guankeng in Duanshen County, Xiaorong and Xiaofan in Jiangwan and Likeng.
Jingmen, Hubei
Jingmen has been geographically important since ancient times, but today it has become a well-known place for rapeseed planting. The Wuyang Highway runs through about 800,000 mu (533,000 square meters) of vast rapeseed fields and becomes a 50-kilometer-long golden corridor. Taking a drive along the way and seeing the green wheat and golden flower fields on both sides can be a fantastic experience.
In addition to the natural scenery, Jingmen also has a rapeseed culture museum. During the rapeseed flower blossom period, locals also sell rapeseed-related food and local specialties around the flower sea.
(Chen Xiaochun)