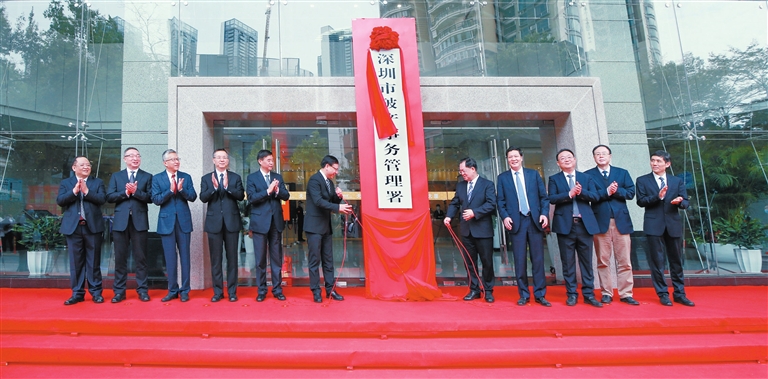 Han Ximin
ximhan@126.com
THE Shenzhen Bankruptcy Affairs Administration, China's first government agency addressing affairs related to personal bankruptcy, was inaugurated yesterday in the Shenzhen Municipal Justice Bureau building in Futian District yesterday, when China's first personal bankruptcy rule came into effect in the city.
Mayor Chen Rugui and Luo Wenzhi, the city's top legislator, during a ceremony, unveiled the plaque of the new establishment, which is subordinate to the justice bureau.
The agency is tasked with managing debtors that apply for personal bankruptcy, registration and disclosure of bankruptcy information, providing legal aid and consultation over bankruptcy affairs, and establishing an inter-department coordination mechanism in handling bankruptcy cases.
Personal bankruptcy is a legal procedure, in which a natural person is declared insolvent and incapable of paying his/her debts.
The establishment of the administration, hailed as an "icebreaking" move, will help improve the quality and efficiency of handling personal bankruptcy cases by enhancing coordination between government agencies, courts and procuratorates, provide professional services to business entities, and further improve the city's business environment.
The first personal bankruptcy rule, which draws lessons from international conventions and practices and was passed by the city Aug. 31, 2020, will provide a way out for "honest and unfortunate" individuals saddled with debts they cannot pay off.
City residents who have made social insurance payments for three consecutive years will be able to seek personal bankruptcy protection under the new rule, if they meet the relevant clauses, it said.
Under the new rule, debtors can opt for liquidations, reorganizations or resettlements if they cannot pay off debts or become insolvent due to production or operating losses and other reasons like living and consumption costs, according to the rule.
"The rule is only for the honest and unfortunate debtors," said Jiang Xilin, head of the justice bureau.
Those who intend to take advantage of the loopholes, if any, in the rule to dodge their debt liabilities will find that their intentions will not be realized, nor will they be able to dodge accountability, said Jiang.
A supervised "probation" period of at least three years will be imposed on eligible personal bankruptcy applicants before they are exempted from all or parts of their debts. During the probation period, their income, expenditure and property will be strictly supervised. Creditors owed more than 500,000 yuan (US$77,000) will also be able to apply to the court for bankruptcy liquidation of the debtor.
Individual businesses make up a third of Shenzhen's 3.3 million registered commercial entities, with many involved in e-commerce or freelance work, official figures show.