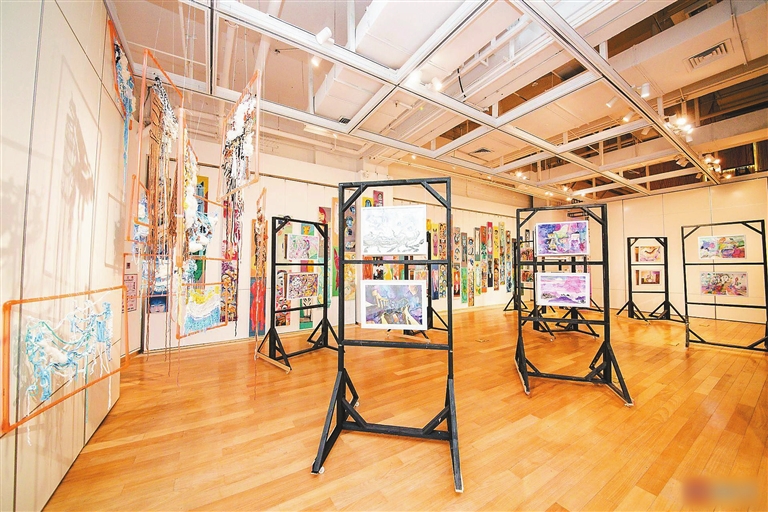 Around 200 works of art created by 198 youngsters are being exhibited at the third Xiaoyan School of Art exhibition at the Sea World Culture and Arts Center in Nanshan District. The exhibition runs through March 31.
Among the young artists is a 4-year-old who brings chic shoes, envelopes and postcards; an 8-year-old who makes animated short films; and a teenager under 15 who independently finishes large installation artworks and mind-blowing architecture models.
The exhibition invites visitors to move the easels as they desire, to rearrange the exhibition, which makes the event more interactive. Cheng Nian, the executive curator and director of Chao Gallery, the event organizer, explained that they are trying to push the boundaries of art galleries by putting huge oil paintings in the public space of the Culture and Arts Center.
Cheng added, "This is the first time staging an offline exhibition since the breakout of the pandemic, so we want it to be more interactive with visitors who have been distanced from artworks due to the COVID-19."
"Arts plus technology" is a main concept discussed in the exhibition. Zhuo Mingda, the president of Xiaoyan School of Art, introduced a long popular strip of oil paintings featuring "human and animal," which are co-created by several talented youngsters. "The process of creating artworks invokes reflections on technology. In an era with rapid development of technology when photo apps could instantly turn photos into sketches, painting seems to be pointless." The oil paintings were combinations of hand-drawing images and post-processing software, which corresponds to Zhuo's predictions on the future trend of "arts plus technology."
In addition to the commonly found "arts plus technology" works like the industrial abstract sculptures, some young artists are also inspired by traditional handicrafts.
According to Ma Yan who runs the Xiaoyan Studio, a weaving artwork hung in the hall that greets visitors at the entrance is a work of creativity that combines traditional weaving skills and a mixture of materials, which is different from machine-made ones.
The exhibition is also full of experimental ideas. For example, one explores the topic of "virtual reality" by drawing every frame of a recorded real-life video; another work is a hand-drawn stop-motion animation, a technique that was learned at the gallery's summer lesson.
Many young exhibitors said that video-making lessons were their first experience, since such art education is not usually delivered at their age.
Wu Xiaoyan, the curator of the exhibition and founder of the Xiaoyan School of Arts, said that art education is much more than painting in front of the boards and has no boundary. "In the future, the school will keep creative and experimental," Wu said.
(Wan Mengzhen, Yang Mei)