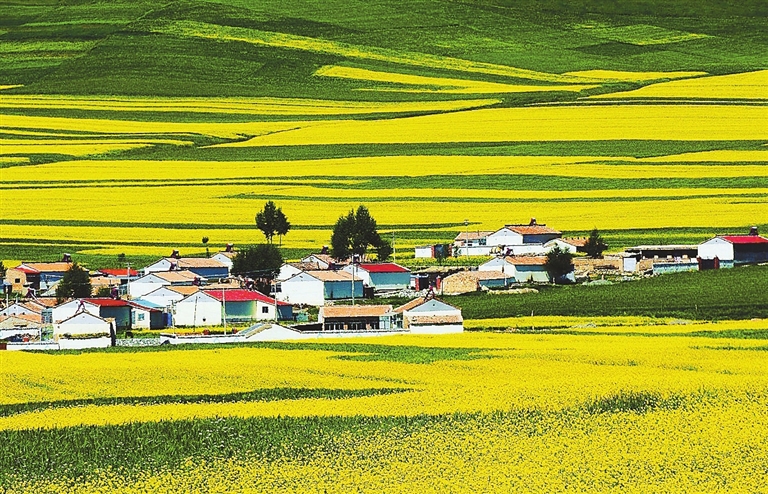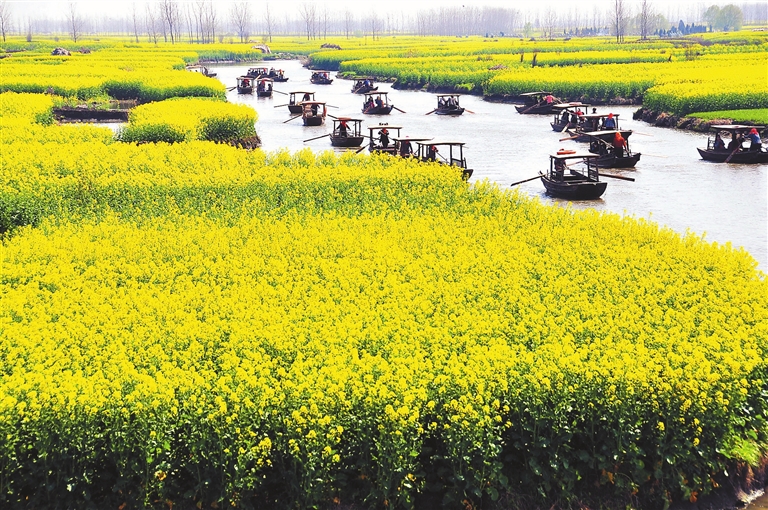 AS the sunlight becomes increasingly bright, spring comes rolling around. Spring is the season to appreciate golden fields of flowers, some stretching as far as the eyes can see.
Rapeseed flower scenery has been getting increasingly popular for tourism across the country. In this article, we've selected seven places across China for you to go rapeseed flower sightseeing. Get ready to indulge yourself in these golden fields!
Xinghua, Jiangsu
The panorama of the rivers and waterways winding through the fields of rapeseed flower on duotians dates back hundreds of years in Xinghua. Duotian, which is the local name for "raised field," refers to small patches of fertile soil created to have easy access to water for growing crops.
In the Qianduo scenic area in Xinghua, rapeseed flowers are planted on duotian of different sizes. Flooded in a sea of golden rapeseed flowers, the scenic area attracts millions of tourists from around the world every year.
The scenic area, also called the Qiandao Rapeseed Flower Scenic Area, covers an area of 4.3 square kilometers. It is reputed to be one of the most beautiful spots to see rapeseed flowers in the country.
Every year around March and April, the rapeseed flowers are in full bloom. Tourists enjoy boat rides which sail among blooming flowers at the area. The ticket for the scenic area is about 100 yuan, and includes the boat ride.
Apart from rapeseed flowers, Xinghua, a land abundant in fish and rice, offers rich local dishes to tourists.
Zhaosu, Xinjiang
The rapeseed flowers in Zhaosu are among the latest to bloom in the county but last for the longest time. Every early summer, vast areas of rapeseed flowers bloom all over the slopes of Zhaosu County, welcoming tourists with a splendid view of vast golden fields.
Around 67,000 hectares of rapeseed flowers are cultivated annually in Zhaosu County — the largest rapeseed producing area in Xinjiang, accounting for 40 percent of the total area reserved for growing rapeseed in the autonomous region.
Located on the Tekes River of the upstream of Ili River, Zhaosu County borders Kazakhstan and Kyrgyzstan. The Tekes River travels through the whole county. Over 20 ethnic groups including Kazakh, Mongolian, Uyghur, Hui and Khalkhas reside here.
Menyuan, Qinghai
Menyuan Hui Autonomous County in Qinghai Province is also one of the places in the country where rapeseed flowers bloom late. Every July, the rapeseed flowers next to the Qilian Mountain pastures in Menyuan stretch for dozens of kilometers. Some of the flower sites are as high as 3,000 meters above sea level. Look afar and you will see mountains connecting with the sky.
There are three best spots for appreciating the golden rapeseed flowers. They are Nanshan Mountain, the flower viewing platform on Yuanshan Mountain in Qingshizui Town, and the Daban Mountain viewing platform.
(Chen Xiaochun)