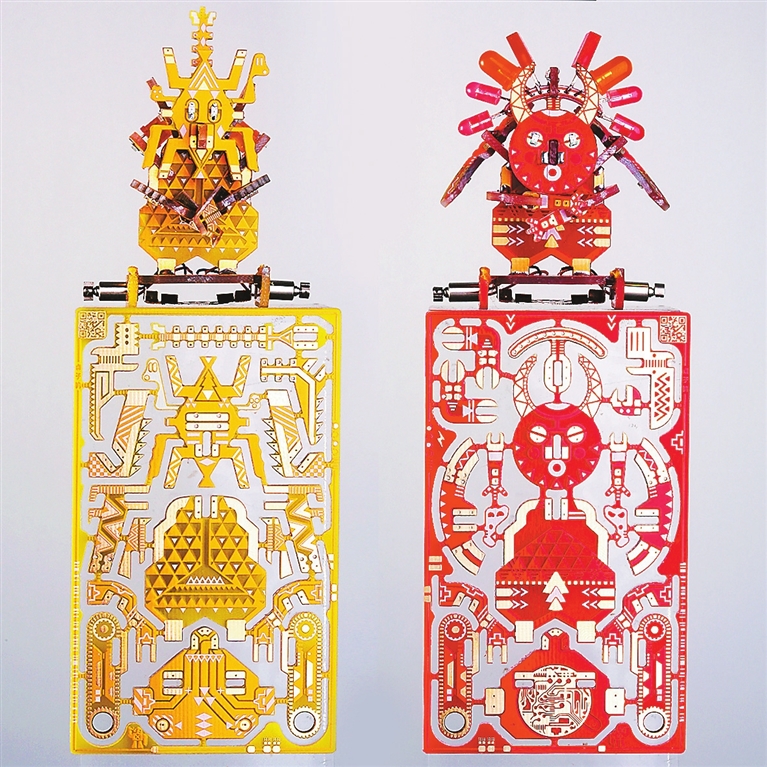 Cao Zhen
caozhen0806@126.com
Geeek Club's robot kits provide users a fun way to learn hardware and electrical engineering skills without even realizing it when they assemble small desktop robots by following the step-by-step instructions in the kits.
The club's Magic Voodoo Bots kit comes with all the parts beginners need to build seven tribal-art-inspired robots. For the more advanced robotics fans, the Smart Nano Bots PCB Construction Set has a few extra printed circuit boards (PCBs) and gives users all the motors, sensors and robotic pieces to craft their own miniature troop of smart, roving robots for amusement. The robots have light sensors and vibro-motors that allow them to move toward any light source.
According to their inventor Nicolas Deladerriere, he uses PCBs as the main structure (a bit like an exoskeleton), while other robot makers usually use PCBs hidden inside a plastic shell. "The PCBs in our robots kind of become the electronic skin or an electrical nervous system running throughout. This also allows users to more easily explore upgrading the robot with new components or elements," said Deladerriere, a French expat living in Shenzhen for 12 years.
"I'm now working on a new generation where each robot provides one tiny step to experience what robotics is about. The new set should be ready in a couple of weeks. Keeping in mind both the fun and trying to hide the educational aspect, those tiny robots are between Lego and Meccano," he said.
Geeek Club was co-founded in 2019 by Deladerriere, with Shenzhen-based Russian Nikita Potrashilin and U.S.-based Russian Artur Stelmakh. Deladerriere is in charge of research and development, creating new types of robots, models, board games, etc. Potrashilin, with more than a decade of experience in product development in various industries, is in charge of manufacturing and connecting the Chinese part of the team with those in Europe and the United States. Stelmakh, who has strong experience in launching new Kickstarter projects, covers all the marketing and public relations.
Deladerriere said that they are meeting more engineers and geeks for Geeek Club. "A teacher from a tech royal university in Sweden contacted us lately, willing to help us build a set that suits his child and we are also talking to build innovative sets for his first-year students. Any geek, engineer, and individual passionate to play with a creative spirit are welcome to contact us," said Deladerriere.
Having studied art, industrial design and marketing in university, Deladerriere had worked for TCL and Huawei and co-founded the famous maker space in Huaqiangbei — TroubleMaker — which is very popular among local English-speaking makers.
"Settling in Shenzhen was a real opportunity, as I understood quickly that all the factories and craft people around was a huge toy box of tools to play even more with the creative ideas I wanted to achieve, both in art and tech. The Shenzhen speed has something quite magic as lots of projects can be done in a few days or weeks. I quickly wanted to set up a lab in Huaqiangbei with some friends that allowed me to meet plenty of all types of engineers, and like a child and surrounded by the electronic and PCB environment, I ended up willing to play with that and creating my own tiny robots," said Deladerriere.
Geeek Club's robot kits are now sold on Kickstarter and the team is also considering the Chinese market after Deladerriere can develop some models that reflect Chinese culture.
"We are planning to create a whole universe around the Geeek Club brand. More products, separate tools and electronics components will soon be available on our website. We built the platform for geeks where they not only can buy products, but also can communicate and share ideas," said Potrashilin, adding that they are negotiating an offer of US$1 million with an investors syndicate.