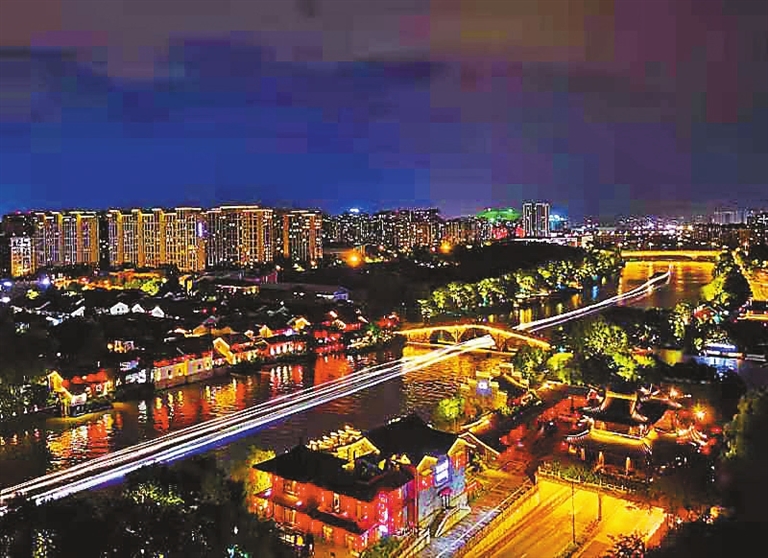 Michael Zhang Southern University of Science and Technology
As far back as I can remember, the Grand Canal has been in my memory. My mom and dad would take me for a walk down the sidewalks along the canal when I was in a stroller. Later when I became a child, I was learning with my grandpa how to fly a kite in the winds of the spring by the riverside. As I grew more mature, my watching the cargo ships quietly passing under the old Gongchen Bridge would relieve me of all the stress inside. When I see the water flowing in the Grand Canal, not only do I see growth in myself as a person, I see the innocent times when joy lies in the simple things that we tend to ignore today.
Evening walks have been an inseparable part of my childhood; we would walk together alongside the Grand Canal, appreciating the night view and greeting all the neighbors that we met during the walk. Gossips and chatters are always mixed with laughter while shared stories such as who got married would keep people intrigued. A slight sense of achievement came when the evening walk was completed and my favorite cartoon started on television. The mixture of joy and anticipation that dances around the heart of a little kid like the waves of the Grand Canal is a unique feeling that quietly disappears as one ages.
The Grand Canal stretches from Beijing to the Gongchen Bridge in Hangzhou which marks the south end of the canal. Everyday the water flows from north to south, carrying tons of goods as well as messages and hope. I wonder constantly whether the same droplet of water would ever return to the place where it started traveling and more importantly, will we ever remember the joy derived from starting the life-long journey. I moved to Shenzhen to attend college, yet I still couldn't forget the days that I spent beside the Grand Canal. The years passing are like the irreversible water flow. For me Shenzhen is a fresh start, but what the Grand Canal truly represents is the home that I long for whenever I'm traveling.
Cherish the simple happiness while you can, because that's what makes life fulfilled. Maybe some people prefer the thrill brought by the life on waves, but I believe time flows like the water in the Grand Canal, peaceful, yet including numerous moments of joy like the countless droplets of water. May all the leaves return to the earth from which its nutrients were drawn and may all the travelers remember their moments of setting off.