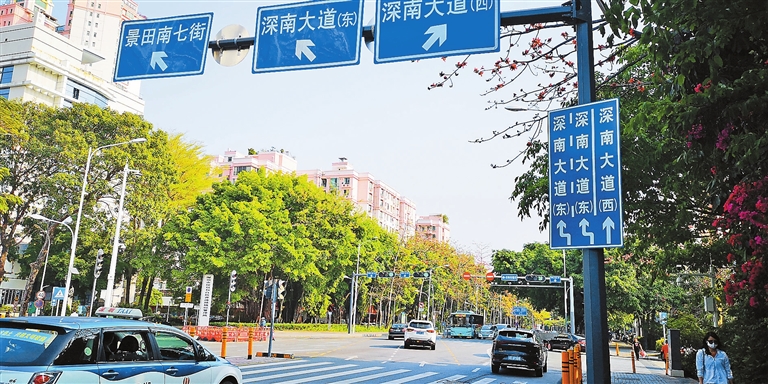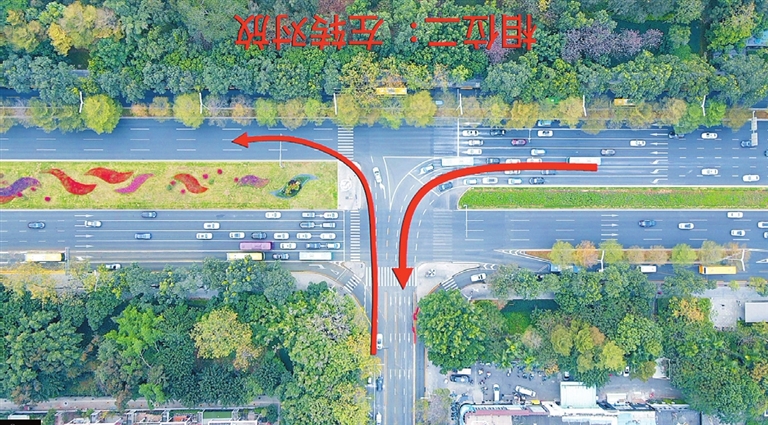 Han Ximin
ximhan@126.com
A NEW traffic organization system called Counter-flow Interchange, said to be the first of its kind in China, was introduced near the intersection of Xiangmei Road and Shennan Boulevard, improving traffic efficiency by 14.3 percent.
The intersection is one of the two leveled intersections along the 7.6-kilometer stretch of Shennan Boulevard between Hongshulin Road and Huafu Road. It often had heavy traffic during rush hours which affected the through vehicles running along Shennan Boulevard.
The situation was recently worsened due the roadside renovation work. The crossing became the most congested intersection along Shennan Boulevard.
The south-north bound lanes on Xiangmei Road were congested with vehicles turning left from Shennan Boulevard to Meilin and Jingtian areas.
The vehicles stuck at the intersection blocked the through vehicles along the east-west bound lanes of Shennan Boulevard.
From Jan. 4, Shenzhen traffic police started piloting the new traffic organization system and officially introduced it Thursday by counter-flowing the vehicles on the section of Xiangmei Road which are in conjunction with Shennan Boulevard, allowing vehicles on the right side of Xiangmei Road to enter the left side of the road, thus enabling left-turning vehicles from Shennan Road to Xiangmei Road and left-turning vehicles from Xiangmei Road to Shennan Road to pass the intersection simultaneously.
Vehicles at these lanes will resume normal traffic after the intersection of Xinwen and Xiangmei roads, according to Wang Le, section chief with the Transportation Department of the Shenzhen Traffic Police Bureau.
The introduction of this new mechanism will reduce counter-flow waiting time on the left-turn lanes at the intersection of Xiangmei Road and Shennan Boulevard. The efficiency of left-turning vehicles from Shennan Boulevard to Xiangmei Road had been greatly improved.