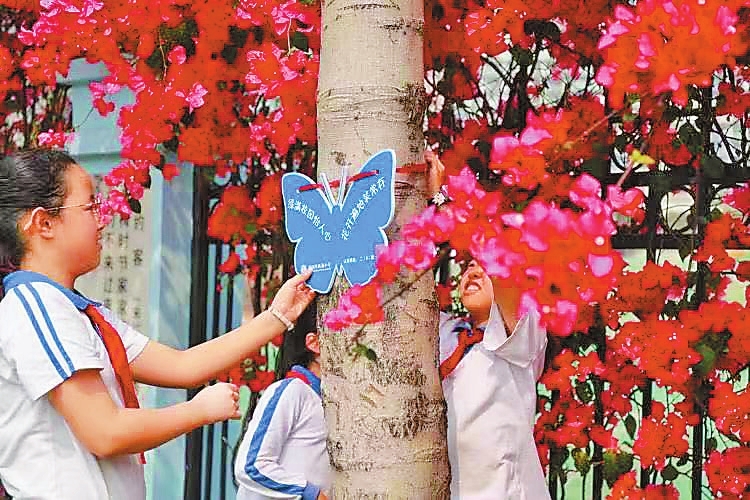 To mark this year's National Tree Planting Day, which fell on Friday, many schools in the city held tree planting events to help their students learn the importance of trees and environmental protection.
On March 10, 100 seventh graders from Shenzhen Foreign Languages School, together with some teachers and parent representatives, visited the Xiantong Sports Park on Wutong Mountain and planted 100 evergreen magnolia (Michelia maudiae) trees there. The trees formed a grove which was given the name "Yuli Grove." A stone-laying foundation for the grove was also held on the same day.
Ouyang Aixiao, executive principal of the junior high campus of the Shenzhen Foreign Languages School, said at the ceremony that the name "Yuli" refers to the process of learning and understanding etiquette, and that the school hopes all of its students can become polite and gentle people in addition to achieving academic success.
He added that planting 100 trees this year of the 100th anniversary of the Communist Party of China is also a way the school expresses its best wishes to the Party and the country.
Nanhai Primary School in Nanshan District, in collaboration with the Dengliang Community, organized a tree planting event on March 12.
The event began with a student representative introducing to all students via the campus radio the origin of the National Tree Planting Day and the role trees play in environmental protection.
Students of each class then put up a board printed with an environmental protection-themed slogan created by the students on a tree on the campus, and made a promise to raise the trees together.
After that, students of class 7, grade 3 formed groups of two and planted trees on the campus under the guidance of the school horticulturalist.
(Yu Yuanfan)