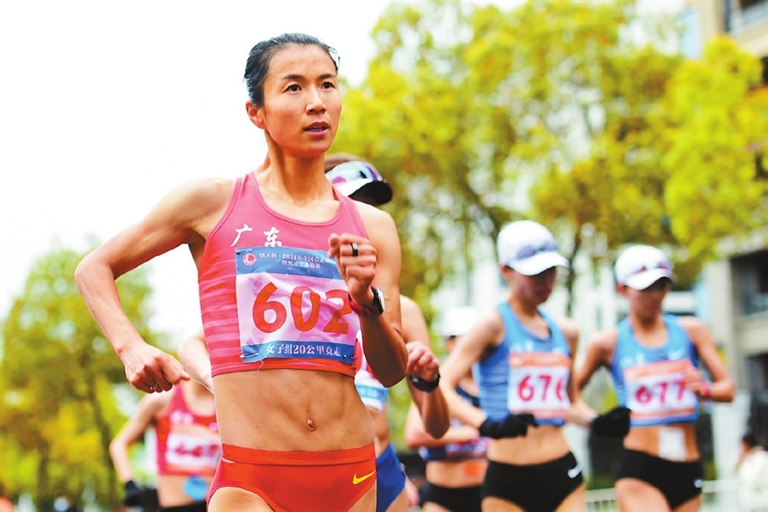 SHENZHEN race walker Liu Hong broke her own world record of one hour, 24 minutes, 38 seconds in the 20-kilometer race walk at the 2021 Chinese national championships held Saturday in Huangshan, Anhui Province.
The 34-year-old race walker won second place in
1:24:27, with Yang Jiayu finishing first in 1:23:49. Qieyang Shijie is third place in 1:24:45.
Li Jing, Shenzhen sports training team coach, told a Shenzhen Evening News reporter: "Liu's goal for the race was to break the world record. She did winter trainings for over one month in Shenzhen."
Liu's husband and 3-year-old daughter accompanied her during the trainings. Their accompanies get her more motivated.
Before the competition, Liu temporarily bid farewell to the track-and-field events for two years. With sincere love for race walking, Liu chose to make a comeback after giving birth to her daughter.
Being a mother and athlete, Liu faced challenges to resume trainings.
At the time, even though she could still feel the cesarean section surgery pains, she had to train more to lose fat and gain muscles. "I would work out 190 kilometers per week in the most difficult days," Liu said.
Coach Li also said that Liu wanted to be in her best form for the Tokyo Olympics. The race's top three finishers will represent China to attend the 20-kilometer race walk in the Tokyo Olympics.
In another development, Chinese sprinter Su Bingtian won 100 meters in 10.05 seconds in a competition held at the Universiade Center in Longgang District on Saturday.
Su's performance was reported to be the best in this year's men's 100 meters. Xie Zhenye finished second in 10.19 seconds.
This was also the first time that Su has played in an outdoor arena since he was troubled by a waist injury in 2019. (Wang Jingli)